The Big Easy is a nickname for New Orleans, USA, referring to the easy-going, laid back attitude to life that jazz musicians and local residents indulge in there. Carol Schwarzman, with the aid of her brother, reviews some resilient responses to the Big Hurricane Katrina's path through it on 25 August 2005. In the words of US writer Tom Piazza: "The 'underprivileged' people of New Orleans "spun a culture out of their lives – a music, a cuisine, a sense of life – that has been recognised around the world as a transforming spiritual force."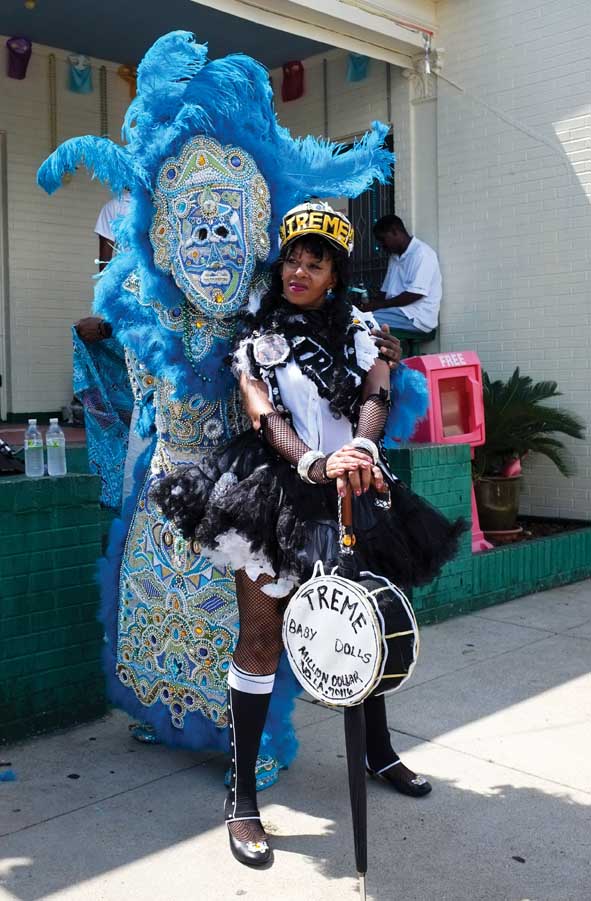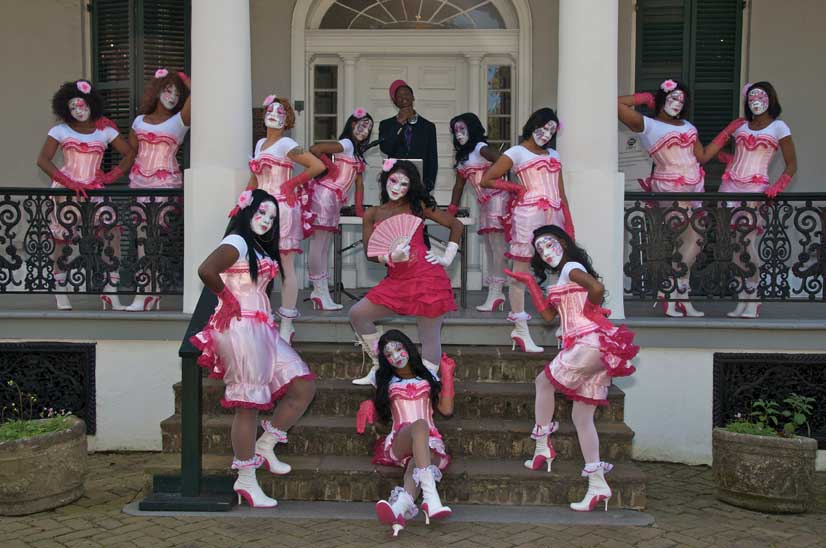 In New Orleans there is a kind of unified field of culture, of being. You sense it as soon as you enter the city. The air smells different: it feels different, heavier, on your arms, more like a liquid than air...like finding yourself in some electrically charged soup." 1
Seven years ago, on 29 August 2005, Hurricane Katrina's 225 kph winds hit landfall just east of New Orleans. By the next day, the levees broke and Lake Pontchartrain's waters wreaked havoc. Within hours, eighty percent of the city lay underwater - in some places as deep as fifteen feet. Low-lying areas were literally swept away and tens of thousands of residents had fled in anticipation of the worst. Those unable or unwilling to leave were abandoned to their fate, either in their own homes, in hospitals and nursing homes without electricity, or in the Superdome or Morial Convention Center. The world watched helplessly as the U.S. government stumbled to attention, and finally brought in aid five days later.
No other American city can boast a history as radically multicultural as New Orleans, or inspire the same passionate connection to place. Founded on Mississippi River swampland in 1718 by a consortium of French gamblers and aristocrats, and subsequently traded as war spoils amongst the French, Spanish, British and Americans, the city and its economy – like much of the Americas – were built and fueled by African slave labour. Settler populations also conscripted deportees from Europe's streets and prisons, and used local Native American tribes as allies in battle, enslaving or forcing many to leave their ancestral homes.
Congo Square, once located in an area bulldozed by a 1960s urban renewal project, was "the only place in the antebellum United States where enslaved African Americans were allowed to hold public gatherings, to dance, play ancestral drums, and sing in ancestral languages."2 Also prior to the Civil War, free Blacks of all socio-economic levels were drawn to the city's cosmopolitanism, creating the largest community of free people of colour in the United States. A heady mix of white, black and red, free and slave, Catholic, Protestant and African religions combined with European secular cultures. The results? World-changing musical phenomena like the blues, jazz, rock'n roll, rhythm and blues and funk, and culinary one-of-a-kinds such as po-boys, mufalettas, gumbo and jumbalaya. Today, New Orleans does not lack for creative, sensual pleasures shared in community, due in great part to this mixed legacy of oppression and freedom.
So how is The Big Easy coping? According to the 2010 U.S. Census, the city has lost just under a third of its 2001 population. Yes, many residents have relocated, but since Katrina, hundreds of young lawyers, teachers and artists have moved to NOLA along with returning evacuees. Anyone you speak to admits it's a long haul: the city now holds the nation's highest per capita murder rate. Neighbourhoods that were decimated, like the Lower Ninth Ward, are recovering, but are vastly emptied of buildings and people, with structure and landscape changed forever. Yet NOLA's residents steadfastly maintain their soulful spirit by relying on centuries-old cultural traditions of resilience, incorporating contemporary approaches for healing and renewal.
The House of Dance and Feathers is a grassroots, backyard museum on Tupelo Street in the Lower Ninth Ward, started by Ronald W. Lewis in 2003. The museum's collection focuses on all aspects of African American street culture and experience in New Orleans and reflects how people "in the culture" work to preserve their own history. After Katrina hit, Lewis lived in a government shelter in nearby Thibodaux, separated from his family, waiting for the chance to get back to the Ninth Ward to find out if anything had survived. The home on Tupelo Street, though still standing, was pretty much destroyed. Contents of The House of Dance and Feathers – invaluable artifacts, ephemera and photos stemming from Lewis' many years of work with the Mardi Gras Indians – amounted to nothing but a heartbreaking, ruined mess.
A synergy of personalities and events restored the House of Dance and Feathers. Months after Katrina, Lewis reconnected with Rachel Breunlin of the Neighborhood Story Project at ReInhabiting NOLA, a workshop designed and organised by Dan Etheridge. An Australian urban planner at Tulane University's City Center – and Breunlin's husband – Etheridge subsequently drew up plans and acted as project director for rebuilding the house and museum. Breunlin and Lewis formed a bond that led to publication of the catalogue The Neighborhood Story Project Presents The House of Dance and Feathers: A Museum by Ronald W. Lewis. As "a self-taught photographer, archivist, curator, and cultural translator,"3 Lewis joined with Breunlin to voice New Orleans' story as powerful and joyous in the face of extreme hardship.
The exact origin of the Indians is unknown: traced back to the 19th century, an Indian tribe is "part secret and spiritual society and part neighborhood social club." 4 Resting firmly on African roots, and drawing from working class blacks' admiration of Native Americans' stoic resistance to oppression, the Indians' singing, chanting and partying originally defied historical segregation from white Mardi Gras celebrations (which was legal up until 1991). In the 1970s, one Big Chief in particular, the late Allison 'Tootie' Montana of the Yellow Pocahontas, was credited with transforming meetings between tribes from potentially aggressive, confrontational brawls into competitions based on who is "prettiest" and the best performer. Singing and chanting are "a rhythmic stew, with a call and response pattern and Latin-French-African-Caribbean inflected rhythms… that create a special spiritual bond… at the root of New Orleans culture." 5 With names like Choctaw Hunters, Seminoles, YPH, FiYiYi and Wild Magnolias, the Indian tribes' preparations take up to a year. The core of community is formed by meeting to fabricate their beaded and feathered costumes and headdresses, practise chants and signature dance movements, and to pass ritual and meaning down to the next generation.
Dr. Kim Vaz of Xavier University has written extensively on the Baby Dolls, a masking tradition that began in the early 20th century as "a kind of Carnival Club for women working in the dance-halls and brothels… in [Storyville,] the neighborhood of Louis Armstrong." 6 Dressed in homemade satin tap shorts and blouses, wearing masks, top hats and Mary Jane shoes, these ladies subverted their exclusion from white Mardi Gras celebrations by parading through the streets, dancing and chanting, at times accompanied by men and music. The Million Dollar Baby Dolls were known for having an attitude, and were really proto-feminists: while masking, they openly collected money in their garters. Eventually, middle class married women adopted the Baby Doll persona as the basis for social aid and pleasure clubs formed to "care for community members in times of illness, poverty and death,"7 and to mask at Carnival. For various reasons, baby doll clubs dwindled after the 1970s, and the tradition mostly lay dormant until Katrina's aftermath.
Enter Millisia White and her brother, D.J. Hektik, who was never evacuated and who, along with a third brother, rescued their grandmother from Midcity floodwaters. Millisia is the founder of the New Orleans Society of the Dance, Inc. She selected the Baby Dolls as NOSD's 'face' – as a way of connecting the traumatised city with something positive from the past. As a child, she had watched from her home as Baby Doll clubs masked proudly down her street, along with the Skeletons, to announce the beginning of Mardi Gras.8 Millisia and D.J. Hektik initiated The Resurrection, an organised effort to reconnect people with their heritage, as a means of unifying and solidifying the city's spirit. Every member of the NOSD Baby Doll Ladies is a Katrina survivor, and Millisia says that, "as part of the Mardi Gras masking tradition Hektik pumps up the crowd with 'That Beat' as the locals say, and we get out in the streets or on stage and start moving and dancing in the spirit, not just to be pretty but to put our artistry to use in a way that is positive and felt by others, so they don't have to be afraid or withdrawn from society and to remind them that it's okay to be different too!"9
The 'underprivileged' people of New Orleans "spun a culture out of their lives – a music, a cuisine, a sense of life – that has been recognised around the world as a transforming spiritual force."10 It's miraculous how this strength is now saving New Orleans.
(The author would like to thank all the New Orleanians (including my brother) who have so generously shown me the way it really is.)
Carol Schwarzman is a visual artist and writer based in Brisbane.
1 Tom Piazza, Why New Orleans Matters, HarperCollins, New York, 2005, p35.
2 Ned Sublette, The World That Made New Orleans, Lawrence Hill Books, Chicago, 2009, p119.
3 R. Breunlin and R. Lewis, The House of Dance and Feathers, Uno Press, New Orleans, 2009, p3.
4 www.wildmagnolias.net. Accessed 15 Aug 2012.
5 Piazza, op. cit. p48.
6 Kim Vaz, How Wounded Healers Help: A Culture-Specific Response to Recovering From a Natural Disaster. Retrieved from http://counselingoutfitters.com/vistas/vistas11/Article_93.pdf, p6.
7 ibid p4.
8 Kim Vaz, 'They Call Me Baby Doll', Louisiana Cultural Vistas, Winter, 2010-2011, p83.
9 www.neworleanssocietyofdance.com
10 Piazza, op. cit. p153.