Curator: Maud Page Foyer Cabinet, GOMA, Brisbane 1 May - 4 July 2010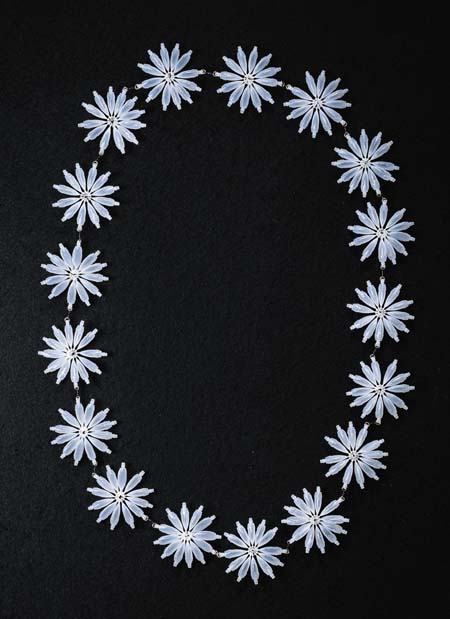 It is rare that a foyer showcase exhibition really grabs your attention, let alone possesses some potential for creating curatorial debate, but so it was with 'Pacific Jewellery'. Focused on the iconic lei and other similar forms of necklace, it was colourful, diverse in media and also geographically inclusive.
Necklaces by well-known artists of the NZ Pacific Diaspora, Sofia Tekela-Smith and Niki Hasting-McFall, were a feature. It was particularly gratifying to see Hastings-McFall's 'Too Much Sushi II' ('Urban Lei' series, 2003), which strings together rosettes of empty soy sauce containers (those ubiquitous little plastic fish), thereby offering a tongue-in-cheek comment on her Samoan heritage as played out in urban Auckland. Hastings-McFall's preference for plastic also highlights the impact of non-biodegradables on island eco-systems. Perhaps more importantly, this exhibition also trumpeted works by lesser-known artists from islands such as Niue, the Marshall Islands and Palau. Among them, Niuean-born Noko Ikitule's 'Lei' (2004), composed of curling rosettes of gift-wrapping ribbon, was highly expressive of cultural transformations in the contemporary Pacific.
To outsiders, it might come as a surprise that this lovable little exhibition could add fuel to the fire of curatorial debate within the Pacifica community. This debate spins around the vortex of 'art versus artefact': the notion that objects not originally created as 'art' do not belong in art galleries but in museums. This debate has an underlying ethical dimension with an implied moral high ground: critics say that art galleries strip objects of their meanings, imposing upon them a reductive Western-style of appreciation. This is equated with the silencing of indigenous voices.
Prior to 'Pacific Jewellery' it was ten years since Australia had a dedicated Pacific jewellery exhibition. Broader in scope, 'Adorned: traditional jewellery and body decoration from Australia and the Pacific' (Macleay Museum, 1999-2001) curated by Anna Edmundson walked the museum talk with art-aesthetic sensibilities. Accordingly, objects were given enough visual space to speak for themselves, however the didactic labeling (discreetly placed) and Linnaeus-styled groupings (thematic, geographical) of the kind seen in traditional ethnographic museum displays remained clear and present.
As a curatorial stance, 'Adorned' was not contentious, but the extent to which philosophies have shifted over the last decade could be felt at the recent 'Body Pacifica' festival (Casula Powerhouse 25 June-29 August) where five Pacific Islander artists (Frank Puletua, Niwhai Tupaea, Sione Falemaka, Latai Taumoepeau, Greg Semu) created new artworks in response to a series of body adornments and ceremonial objects drawn from the Pacific collection of the Australian Museum. 'Body Pacifica's' community interaction-based approach to exhibiting Pacific 'jewellery' was a world away from the glass vitrines of the GoMA foyer, where necklaces were displayed as objects 'par excellence' in an installation devoid of visual interference.
The curatorial tendencies of GoMA's Pacific department came under fire earlier this year at the Australian Association for the Advancement of Pacific Studies, when artist Fiona Davies compared several major exhibitions of Pacific tapa (barkcloths) that toured Australia last year. 'Talking Tapa — Pasifika Barkcloth' in Queensland (curated independently by Joan Winter), was praised for the way it placed the tapa within social contexts, often using display to communicate usage. Davies argued that the curatorial preferences of 'Paper Skin — Barkcloth across the Pacific' (curated by Queensland Art Gallery, Queensland Museum and Te Papa Tongarewa) towards smaller 'tapas' devoid of fold marks or signs of usage made it difficult to imagine them in ceremonial or ritual situations.
To return to 'Pacific Jewellery'; it was heavily focused on aesthetics, and as such, would have been panned behind closed doors in some quarters. However, where the exhibition deserves praise is in the way it defined 'contemporary Pacific art' exclusively in terms of the date of the objects' creation. Too often in Pacific art one sees an ungainly division between traditional and contemporary realms based on Western art concepts. On this basis, curator Maud Page could have easily excluded necklaces with Kina shell breastplates by Kende Kusa and Aseda Oria (PNG), or a delicate Hawaiian feather 'lei hulu' by Kahikina de Silva — and the exhibition would have been poorer, and less representative of the state of contemporary Pacific jewellery. It would have also fed into the myth that some Pacific cultures exist in a timeless ethnographic present: that even their new objects are somehow old.
'Pacific Jewellery' was a warm embrace of its subject. In its mish-mash of media and cultural references, it formed a coherent and joyous whole that still pushed the boundaries of what constitutes 'contemporary art' at an institution like GoMA.