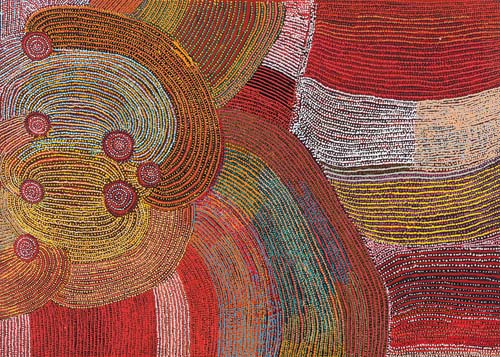 SOUTH AUSTRALIA
Art Gallery of South Australia
29 October 2010 - 23 January 2011
'Desert Country'. Curator: Nici Cumpston
Australian desert painting movement from the Northern Territory, South Australia and Western Australia.
Art Gallery of SA
Samstag Gallery
22 October - 17 December 2010
'Other side art: Trevor Nickolls, a survey of paintings and drawings 1972 – 2007'. Curator: Michael O'Ferrall. Major museum survey of Nunga man from remote South Australia's politically charged art practice.
'Generosity of Spirit: Recent Australian Women's Art from the QUT Art Collection'
Curator: Stephen Rainbird. Major works by leading Australian mid-career women practitioners.
Anne & Gordon Samstag Museum of Art
CACSA, FELTspace, SASA GALLERY, Victoria Square, all around Adelaide
1-21 November 2010
'The NEW NEW - Contemporary South Australian Art 2010'. Curators: Alan Cruickshank & Peter McKay
Over 40 artists, public artworks around the Adelaide CBD, survey of South Australian contemporary art practice.
CACSA Contemporary: The New New
Port Pirie Regional Art Gallery
29 October - 12 December 2010
'Recycled library: Altered books'. Seventeen artists using books as raw material.
Port Pirie Regional Art Gallery

JamFactory Gallery, Adelaide
10 September - 17 October 2010
'Making Waves: Peter Walker'. New wooden surfboards, eco-design integrated with craft skill.
'Metonymy - look both ways'. Linda Hughes uses 'the stripe' beloved of traffic signs in her jewellery.
JamFactory
FELTspace, Adelaide
September 2010
'The Reno Project: Laura Wills and William Cheesman'. Stop motion animation from the making of The Coconut House (from Asialink residency, Cemeti Art House, Yogyakarka) and new installation, drawing and cardboard works exploring the theme of shelter, bivouacking and the idea of feral animal as 'pest or resource'.
FELTspace

NEW SOUTH WALES
Newcastle Regional Art Gallery
11 September - 7 November 2010
'Virtual Encounters: Paula Dawson holograms'. Survey developed in collaboration with Macquarie University.
Newcastle Regional Art Gallery
Campbelltown Arts Centre
28 August – 24 October 2010
'The River Project'. Cultures and river systems stretching across Asia and the Pacific to the Georges River in south-west Sydney.
Campbelltown Arts Centre

Cessnock Regional Art Gallery
4 September - 17 October 2010
'Awabakal to Wonarua'. Artworks of the original Hunter Valley inhabitants.
Cessnock Regional Arts Centre
OBJECTAustralian Centre for Craft and Design
23 October – 12 December 2010
'Robert Baines: Metal'. Sixth in the Living Treasures: Masters of Australian Craft Series.
Object
Goulburn Regional Art Gallery
9 October – 20 November 2010
'G.W.Bot: The Long Paddock'. A 30 year survey 1981-2010. Drawings, books, paintings, prints, sculpture.
Goulburn Regional Art Gallery

MCA
21 August - 31 October 2010
'In the Balance: Art for a Changing World'
Curator: Rachel Kent. Includes urban wildlife safaris through Sydney and Facebook campaigns to 'befriend a weed'.
MCA, Sydney

VICTORIA
Mildura
17 September – 19 September 2010
'Palimpsest #7 (to) give time to time'
National symposium, performance and installation exploring ephemeral art practice in Australia and the world. Collaboration with AEAF in Adelaide.
artsmildura

ACCA, Melbourne
7 October – 28 November 2010
'MORTALITY'. Curator: Juliana Engberg
From the cradle to the grave!
NATHAN COLEY. Scottish artist and Turner prize nominee Nathan Coley's famous message sculpture.
ACCA
Arc One GALLERY
21 Sept – 16 Oct 2010
'John Davis (1936–1999)'. A visionary environmental artist.
Arc One Gallery

The Ian Potter Centre
NGV Australia
6 August – 24 October 2010
'John Davis: Presence'. Curator: David Hurlston. Sculpture, photography and installations with an emphasis on fish-works.
'Mari Funaki: Objects'
A range of objects from the 1990s to 2010 including four recent large scale sculptures. Mari Funaki (1950 – 2010).
NGV
HEIDE, Melbourne
31 July 2010 - 31 October 2010
'Up Close: Carol Jerrems with Larry Clark, Nan Goldin and William Yang'. Curator: Natalie King. A face tells the story of what a person is thinking.
Heide Museum

TASMANIA
Detached
Forum every Saturday 8 October – 5 December 2010
'Brook Andrew: 8 Months of War'. Includes public program of guest speakers giving perspectives to the work.
Detached
Tasmanian Museum and Art Gallery
17 July 2010 – 14 November 2010
'Essence: Contemporary Australian Prints and Drawings'. Curator: Sue Backhouse
Pencil, oil stick, acrylic, etching, woodcut.
TMAG
CAST, Hobart
18 September – 17 October 2010
'SHOTGUN: Scot Cotterell, Cath Robinson, Sara Maher'. New annual exhibition of promising early career artists based in Tasmania. Partnership project with Detached Cultural Organisation.
CAST

ACT
Canberra Glassworks
29 September – 18 November 2010
'Blanche Tilden: Fer et Verre'. New glass and metal jewellery inspired by architecture and technology.
Canberra Glassworks

Canberra Contemporary Art Space
15 October – 27 November
'Hush Now Louisiana: Deb Mansfield' Photographs of the infamous deltas, bayous and marshes.
Canberra Contemporary Art Space
National Gallery of Australia
24 July – 3 October 2010
'Robert Dowling: Tasmanian son of Empire'
The first artist to be trained in Australia.
13 August – 31 October 2010
'Life, death and magic: 2000 years of Southeast Asian ancestral art'. Sculpture, jewellery and textiles from prehistoric to recent times.
National Gallery of Australia
WESTERN AUSTRALIA
Fremantle Arts Centre
25 September – 21 November 2010
'James Dodd: Boab Inscriptions'. Collected text and marks from the Boab trees of WA's north.
Fremantle Arts Centre

Art Gallery of Western Australia
9 October - 31 January 2011
'Peggy Guggenheim: A Collection in Venice'
Exclusive to WA from the Guggenheim Palazzo on the Grand Canal in Venice.
31 July 2010 - 3 January 2011
'Western Australian Indigenous Art Awards'
Sculpture, video, painting and photography by five artists from Western Australia and eleven artists from other parts of Australia.
Art Gallery of WA
Heathcote Museum & Gallery
20 November – 21 December 2010
'TILT 2010: Paul Caporn and Kate Gregory'
A new reading of Heathcote's multi-layered history and archives.
Heathcote Museum & Gallery

QUEENSLAND
Queensland Art Gallery
17 July – 3 October 2010
'Joe Rootsey: Queensland Aboriginal Painter 1918-63'. Curator: Bruce McLean
Watercolours and sketches by Rootsey and his contemporaries of Queensland's far north.
Queensland Art Gallery
UQ Art Museum
10 September – 28 November 2010
'Before Time Today: Reinventing Tradition in Aurukun Aboriginal Art'. Curator: Sally Butler. Historical and contemporary Aurukun art from public art and cultural institutions.
UQ Art Museum
IMA, Brisbane
7 August — 18 September 2010
'Uncured: Ronnie Van Hout'
There's something rotten in the state of Ronnie.

'Brisbane Airport Fresh Cut 2010'
Queensland emerging artists: Sally Golding, Kelly Hussey-Smith, Fiona Mail, and Elizabeth Willing.
IMA, Brisbane

NT
Watch This SPACE, Alice Springs
5 September - 2 October 2010
'Jacqui Stockdale'. Photographs and paper objects.
12 November - 27 November 2010
'Tom & Ned Civil: meeting halfway'. Tom lives in Melbourne and Ned lives in Kununnurra. A walk-through installation.
Watch this Space

Charles Darwin University Art Gallery
11 August - 17 September 2010
'Not dead yet: Therese Ritchie and Chips Mackinolty'. A 20 year retrospective exhibition by two incisive artists. (See review in this issue)
Charles Darwin University Art Gallery
24 HR ART, Darwin
10 Sep - 16 Oct 2010
'Material Girls: Mella Jarsma, Fiona Gavino, Rosalie Gascoigne'. Curator: Steve Eland
Dissident female artists reveal the mutability of materials.
Body as a Museum & Sweet and Sweat : Xiangqian Hu, Ming Li, Curator: Biljana Ciric. Video and performance work where everyday life is the centre.
24 HR Art