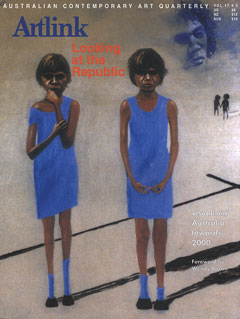 Looking at the Republic
Vol 17 no 3, 1997
Visualising Australia in the lead up to the new Millennium and a possible Republic. How will Australia re-present itself to the region? Icons and logos of Australia, a new flag, sport and porn, art for a banana republic.
You are here
»
Artlink
»
Vol 17 no 3, 1997
»
An Australian Head of State - Eureka!
An Australian Head of State - Eureka!
Author: Ms Stephanie Britton, feature
Eureka - the First Australian Republic? was a touring exhibition which documented and interpreted the Eureka stockade. Containing paintings, drawings and prints ranging from the 1850s to 1994 as well as objects, documents and books related to or dealing with the Eureka Stockade the exhibition demonstrated the symbolic power this event has exerted on Australian political life as well as the imagination of artists.
---
Subscribe to the Artlink newsletter now