The 2009 OzAsia Festival runs from 3 – 17 October, and also includes a fantastic family-friendly program of theatre, dance, film, food, as well as the free community opening event, the Moon Lantern Festival in Elder Park. See www.adelaidefestivalcentre.com.au Open from 29 September - 1 November at the Festival Centre Curious Screen: Festival Theatre (FT) Foyer The Sum of Cultures: Piano Bar Follow, Northern India: Faces and Words and Okami: FT Foyer Miss Taken: Space Theatre Foyer 'this reminds me of some place': FT Foyer 29 September - 8 November, Following Threads: Artspace Gallery (Upstairs, Dunstan Playhouse)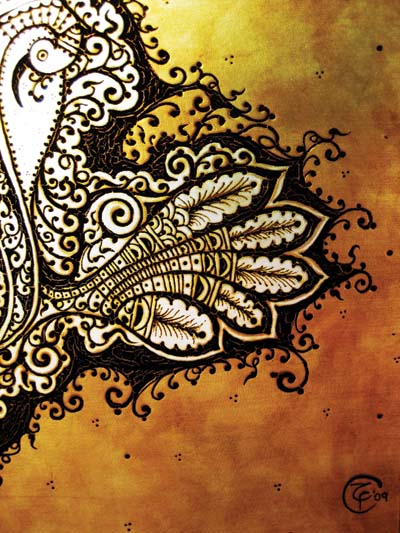 Venture into the Adelaide Festival Centre's Artspace Gallery and theatre foyers to discover a rich and diverse array of stories, as the 2009 OzAsia Festival's Visual Art program of exhibitions and moving images entices you in. Exciting new works link the identity and culture of the past with the present and draw on personal memories and traditional stories. While some of the artforms are hundreds to thousands of years old, others are very new (and even interactive!). Each exhibition provides a unique snapshot of contemporary life as an Australasian artist in today's world.

The Festival Centre's Artspace Gallery (just above the Dunstan Playhouse) is home to 'Following Threads', which demonstrates the traditional use of markmaking in textiles from a wide variety of countries and cultural backgrounds. The exhibition features new work by well-known textile artists India Flint and Humna Mustafa, as well as works by Pakistani Sindh Ajrak artists from the workshop of Noorjehan Bilgrami, Aranya artists of southern India, Ernabella textile artists of northwest South Australia and batik artists of Indonesia - Agus Ismoyo and Nia Fliam – who work in collaboration with Indigenous women from desert communities. These are shown alongside textiles from private collections of early Indigenous Australian batik and fabrics demonstrating Chinese-Malaysian traditions. New works are for sale. Humna Mustafa will be leading demonstrations and workshops and India Flint will also be giving an artist talk and demonstration. All activities are free but bookings are essential for Humna's workshops – through the Artspace on (08) 8216 8850.
In the Festival Theatre Foyer, Korean-born Adelaide artist and jeweller Sun-Woong Bang's new work 'Curious Screen' details and extends his exploration of filigree, featuring a contemporary representation of a traditional folding screen that incorporates digital imagery in an unexpected way.
Two different exhibitions involve husband and wife teams exploring cross-cultural backgrounds. In 'this reminds me of some place' (Festival Theatre Foyer), Pakistani artists Naeem Rana and Nusra Latif Qureshi draw on their personal experiences of new life in Australia and cultural traditions of husband and wife, in their use of print and collage works about how ideas of homeland, identity and belonging can change over time. Over in the Piano Bar, the vividly coloured travel photographs of Dylan Toh and Marianne Lim in The Sum of Cultures demonstrate their own interpretations of their ancestral homeland of China, as seen through the personal lens of a Chinese-Malaysian-Australian upbringing.
The Festival Theatre Foyer also houses a number of multimedia exhibitions. Australian-born Chinese artist Michael Yuen paid -fifty people to follow him throughout a typical day as he met with friends, artists and curators, went shopping and visited the bank. As interested passers-by joined in, the crowd gradually swelled to a hundred, temporarily blocking streets and sidewalks as they progressed through the city. 'Northern India: Faces and Words' documents the 2007 Asialink Literature residency of well-known award-winning playwright/director and visual artist, Stephen House, as he lived and worked in India and focussed on four of its holiest Hindu sights – Haridwar, Rishikesh, Pushka and Varanasi. The original poetry accompanying the moving images reflects both the encounters and friendships that he discovered along the way.
An element that's bound to be particularly popular (and recommended for 'mature' audiences) is Okami, a game that crosses the line between art and entertainment and invites the player to assume the form of the wolf incarnation of the Japanese sun god Amaterasu. Players can channel their divine powers through the mighty celestial paintbrush to restore beauty and order to a bleak world overrun by evil!
In the Space Theatre Foyer, Indonesian-Australian media artist Bambang (BB) Nurcahyadi uses digital painting and effects to explore the dilemma of identity and the importance of the connectedness of humanity in his new work 'Miss Taken.' BB will also be giving an artist talk about the development of this work – please see the program for details.