53rd Venice Biennale: Making Worlds Bantin Duniyan, Hacer Mundos Director: Daniel Birnbaum 7 June – 22 November 2009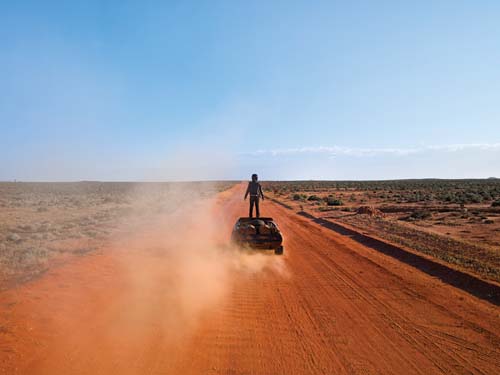 The best of the 'Venice Biennale' reaches out to viewers from the national (and nationalist) displays in the Giardini and elsewhere, and at its worst indulges in either crude jingoism or aesthetic formulae so stylised that they cross all cultural borders. Probably the best example of this is in the café, designed by Tobias Rehberger as one of the exhibits. It is a place created for visual noise, all acute angles and strong uncompromising tones. It serves as a recurring reminder that so much of contemporary visual culture is about consumption. 2009 is the year that Big Design really hit its stride.
In the national pavilions Big Design is most noticeably celebrated by Germany with Liam Gillick's homage to the Frankfurter Küche (Frankfurt Kitchen), the original modular kitchen designed in 1926 by the Austrian architect Margarete Schütte-Lihotzky. This takes the form of a giant raw timber modular kitchen, complete with a stuffed cat. There is a sense of nationalities dissolving as Gillick is from the UK, although he has worked extensively in Germany. The mass adoption of the aesthetic that Gillick's work celebrates is the subject of a witty critique by the Scandinavian duo Elmgreen & Dragset who have combined the Danish and Norwegian pavilions in an installation, The Collectors, which blows a huge raspberry at the class of people who collect tasteful design and art to cover up dysfunctional relationships with humanity. The Danish Pavilion is 'for sale', in a campaign by Vigilante Real Estate. The web site repeats the 'tour' by a frightening real estate agent, who guided the crowds during the Vernissage. See http://vernissage.tv/blog/2009/06/18/the-collectors-curated-by-elmgreen-dragset-danish-pavilion-venice-biennial-2009/ or click here. In the Norwegian pavilion, a body floats face down in the water of a Hockney-inspired pool, while the interior is the site for the murder mystery of a gay art collector, the mysterious 'Mr B' whose collected works and careful elegant design seems almost a parody of dilettante collecting taste. Bearing in mind that those who collect in the manner of these two 'households' often make a point of collecting artists along with their work, this installation could almost be read as a revenge piece.
In the Arsenale, Director Daniel Birnbaum opens with a high point. Brazilian artist Lygia Pape's 'ttéia I', C of 2002 has been re-created in all its gold-lined detail. Pape died in 2004 so it seems odd that this is the work that leads viewers into what is traditionally the exhibition that challenges with its insights into the new. The Arsenale is a difficult and challenging space, even the boldest work can shrink here, and too much does. Birnbaum has indicated that his exhibition 'expresses my wish to emphasise the process of creation', but there is little of that here. What is curious is that the questing, raw expression of art in the making is actually found far away, down a narrow lane in Castello, right near the tourist trap of San Marco. Here, in the Rota Ivancich Palace, curator Cuauhtémoc Medina presents Mexican artist Teresa Margolles' '¿De qué otra cosa podríamos hablar?'(What Else Could We Talk About?). It is such stark work in aged opulent surroundings. The visitor is directed up the stairs where young people gloomily, obsessively, wash floors. It is only by reading the captions that we find that the water has been mixed with blood and mud, and the blood is that of the murdered dead. As the visitor progresses through more rooms, with more gloomy washing men, the sense of foreboding rises. Then downstairs what could be paintings of muddy texture are revealed to be made of mud and blood, to be recycled through washing. Margolles tells us that in 2008 more than 5000 people were murdered by those dealing in drugs. This is a harsh and beautifully raw telling of a tale, and nothing else in this Biennale comes close to it in anguish, although Hungary's Péter Forgács does present a polished vision of evil in his Archive based on medical record photographs by Nazis.
Where then does Australia stand in this chequered landscape? Felicity Fenner's exhibition of early career artists, 'Once Removed', is one of the high points. This is in part because the visitor happens upon it after leaving the disappointing Arsenale, but also the progression from the Chapel entrance of the Ludoteka from Claire Healy & Sean Cordeiro's monolith through to Ken Yonetani's sugar sculpture via Vernon Ah Kee's surprisingly optimistic vision of resurgent Indigenous surfers, appears so fresh. Without being dogmatic the work does manage to encapsulate that well-known Antipodean sense of being an outsider, somehow separate from the world. In particular Healy & Cordeiro's 'Life Span', a giant monolith made entirely of discarded VHS tapes, manages both to revere the sacred space of the chapel in which it is built, and to honour the technology of the video recorder that has lasted only one generation before becoming obsolete.
Shaun Gladwell's robust 'MADDEST-MAXIMVS' which is the entry in Australia's official pavilion, occupies a different kind of space. This is the Giardini where national pride tends to mix with art. Gladwell's work has an energy that can seem almost shocking compared to the neutral works that surround it, and its colours, offset by black, seem even more intense in Europe than at home in Australia. Gladwell's work in this context is a celebration of Australia's status as an exotic land, a place of strange wild life and even stranger wild riders. In that, despite the lack of blood on the floor, we are closer to Mexico's angst than Danish design.
More on Daniel Birnbaum and Biennales