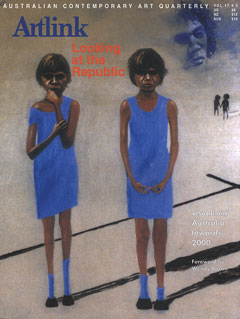 Looking at the Republic
Vol 17 no 3, 1997
Visualising Australia in the lead up to the new Millennium and a possible Republic. How will Australia re-present itself to the region? Icons and logos of Australia, a new flag, sport and porn, art for a banana republic.
You are here
»
Artlink
»
Vol 17 no 3, 1997
»
The Stamp of Republicanism
The Stamp of Republicanism
Elizabeth Gertsakis, feature
When a nation puts out a stamp design it reveals a great deal about its official ideology. The designs which appear on stamps of countries which achieve independence and become republics follow a curious pattern. From France through Tsarist Russia to Libya.... what will Australia put on its Republican stamp [if and when it becomes a Republic]?
---
Subscribe to the Artlink newsletter now