Goochs Utopia: collected works from the Central Desert Curator: Fiona Salmon Flinders University Art Museum 3 October 23 November 2008 Riddoch Art Gallery 5 December 2008 8 February 2009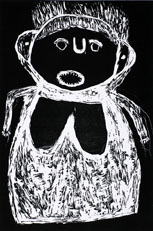 Centrally located within the exhibition 'Gooch's Utopia' is a painting by Rodney Gooch. Painted in metallic silver and gold synthetic polymer paint on canvas in 1988 and titled 'Wild flowers to give to children if they go to bed early and if they wake up early' it is a series of multicoloured dots in parallel lines emanating from a central point. It is vibrant, lively and a bit kitschy, and symbolises the energy and enthusiasm of the man Gooch. It may also be seen as a metaphor for the structure and dynamism of the exhibition.
'Gooch's Utopia' provides an opportunity to gain insight into the challenges and decisions that faced an art adviser in a remote Indigenous community over a formative period of time (1977-1991) for the Aboriginal arts industry. Although at one level it is a survey show including works by 24 artists (some of whom are now well-known, others less so), it is essentially a reflection of Gooch's working relationship with particular artists within the community.
He never set out to be a collector per se but acquired works to help cash-strapped artists, buying smaller works as well as those on a larger scale. As such, the quality of the works is varied. The Gooch Collection was donated in two parts and is held by two institutions, Flinders University Art Museum and Riddoch Art Gallery.
The exhibition, through the sagacious selection and grouping of works by the curator Fiona Salmon (there are 51 works from a potential 600) illustrates that during Gooch's time of working with the community at Utopia, many different styles, media and kinds of projects were encouraged.
It was a time of great experimentation: batiks, printmaking, painting, found objects or spare part art, and the carving of sculptures. Gooch was involved at the point of production of the works in the community and in bringing them to the marketplace. It was financially necessary for the community to gain a position in the art market but at the same time it was important that the individual approaches of the artists were encouraged. He was keen to ensure that the stories and issues that were pertinent to the artists were recorded and to facilitate the depiction of the narratives in a form that maintained its credibility within the community but also acknowledged the resonances of the art market. For example, paintings by Annie Mpetyane and Ada Bird Petyarre of the Awely or Women's Ceremony are 'modern' statements in strong sweeping lines of bold colour that reflect the body paint of ancient traditional ceremonies.
Initially, within the art world, Utopia was known for its batik; the exhibition includes a silk (1987) by Kathleen Petyarre now known for her works on canvas. Gender issues and art world classifications (batik works were women's work and 'craft' not 'art') were assessed and in response Gooch changed the media and the process from silk, wax and dyes to paint on canvas. Emily Kame Kngwarreye, now a very famous artist, was featured in the first exhibition of paintings from Utopia called 'A Summer Project' 1988-9. Her work was on the cover of the catalogue because she was the oldest artist. She is represented in 'Gooch's Utopia', not only by paintings on canvas but on a watering can and a car door (spare part art) such was her enthusiasm for making markings! (And Gooch's quest for innovation?)
The substantial and authoritative catalogue which accompanies the exhibition through a number of essays presenting different perspectives provides valuable insight into a period of great energy and experimentation.
As Gail Greenwood states in her foreword: 'Rodney Gooch clearly didn't want his collection treated as precious and therefore locked away in museum stores. He wanted to share his passion for Aboriginal art. His instructions were that these artworks, that were part of his life and dear to him, be used to teach people about Aboriginal art and its place in our world.'