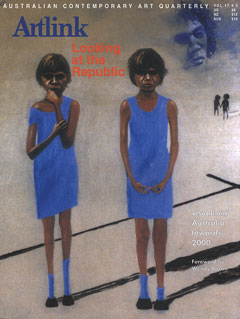 Looking at the Republic
Vol 17 no 3, 1997
Visualising Australia in the lead up to the new Millennium and a possible Republic. How will Australia re-present itself to the region? Icons and logos of Australia, a new flag, sport and porn, art for a banana republic.
You are here
»
Artlink
»
Vol 17 no 3, 1997
»
That Iconic Moment: The Dismissal
That Iconic Moment: The Dismissal
Author: Mr Kurt Brereton, feature
1.30pm Remembrance Day. November 11, 1975 is a sacred memorial for the Australian Republican movement. This was the first time in Australian history that an unelected representative of the Queen had dismissed a Federal Government elected by the people.
---
Subscribe to the Artlink newsletter now