Pictorial section.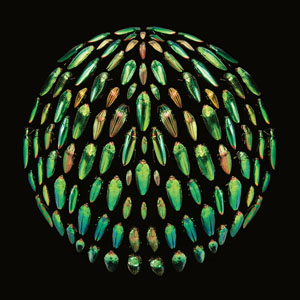 'Patterns are beautiful that exist at the margin between order and disorder, that exhibit a hierarchical organisation which is troubled and opened up by contradictory elements. Those contradictory elements do not however obscure the hierarchy but add to its indeterminate meta-levels which hold our visual interest and which are essentially dynamic and changing, so as to avoid the eye's tendency to become habituated and bored.'
Frederick Turner, 1991
Frederick Turner, 'Beauty: The Value of Values', University Press of Virginia, 1991 p93.

'Beauty perception is to ordinary perception as ordinary perception is to sensation. Beauty is an integrative sensibility.'
Frederick Turner, 1991
Turner op.cit. p56.

'Is a return to beauty then an acknowledgement of art's limitations when it comes to social change? Or, have artists come to a sense of desolation to which they themselves have contributed – mere ashes, given the lingering hope for beauty? Is a return to beauty a gesture of reconciliation with a world desperately in need of it after what it has been through in the intervening decades – a kind of aesthetic amnesty? Or, finally, is the return a concession that in a futile effort to modify social awareness, art has sacrificed precisely that which gives it its deepest meaning?'
Arthur Danto, 1999
Arthur Danto 'Beauty for Ashes' in Neal Benezra and Olga M. Viso (eds) 'Regarding Beauty: a View of the Late Twentieth Century', Hirshhorn Museum and Sculpture Garden, Smithsonian Institution, Washington DC 1999 p184.

'Pattern must be true to nature and yet artificial, evoking the essence of nature rather than imitating appearances. Pattern is not decorative but comes from Zen emptiness or 'mu'(void), a thusness where eloquence and silence are one.'
Soetsu Yanagi, 1952
Soetsu Yanagi, 'The Unknown Craftsman: A Japanese Insight Into Beauty', Kodansha International 1972 (reprint 1982) p114.

'Beauty might captivate but it is also elusive, and our desire to possess it stems from this very evanescence.'
Hannah Fink 2000
Hannah Fink, 'Natural Beauty', The Return of Beauty exhibition catalogue, JamFactory 2000 p26.

'Ideas of beauty, quality and routes to transcendence – like specific art practices and objects – do vary among human cultures and have to be learned. They are contingent and self-interested. Nevertheless, it is also true that people in all societies have criteria of beauty (that is, what is an especially fine, superior or desirable example of a thing). They make distinctions and notes differences of quality. And in most human groups, experiences of the beautiful and excellent may lead to valued and desired heightened emotional states.'
Ellen Dissanayake, 2000
Ibid.

'Protest artists fail to realise that beauty is the ultimate protest against ugliness&indeed the inability to imagine beauty is a sign of the creative inadequacy of post-aesthetic modern art.'
Donald Kuspit, 2004
Donald Kuspit, The End of Art, Cambridge University Press 2004 p31.

'To describe Dale Frank's post-2000 paintings as anything less than deliriously beautiful would be to deny the essential point about them.'
Sebastian Smee, 2008
Sebastian Smee, 'Orange Crush', 'Weekend Australian', Review 23 Feb 2008 p18.

'Suspicion about beauty – a legacy, broadly, of Darwin, Freud and Marx, associating beauty with reproductive drives, a pleasure-principle or false ideology respectively – still lingers.'
Ian North, 2007
Ian North, 'Notes Towards a Natural Way to do Art History' in Ian North(Ed.), 'Visual Animals: Crossovers, Evolution and the New Aesthetics', Contemporary Art Centre of South Australia 2008 p39.

'What distinguishes beauty in nature from beauty in art (or nature from art in general) is that the latter has had form imposed on it by its human creator. Whatever sensual pleasures inhere in the artworks, the distinctive and necessary aesthetic factor would appear to be mental appreciation of how their makers have shaped and embellished the sensuous raw materials.'
Ellen Dissanayake, 2000
Ellen Dissanayake, 'Art and Intimacy: How the Arts Began', University of Washington Press 2000 p208.

'The value of the greatest art consists not in its power of becoming a part of common existence but in its power of taking us out of it.'
Clive Bell, 1914
Clive Bell, 'Art', Chatto and Windus 1914, reference in 1931 edition p266.

'Beauty is a melting away of uncertainty in a state of pleasure, which when recalled to the mind bears the imprimatur of truth.'
Peter Schjeldahl, 1994
Peter Schjeldahl, 'Notes on Beauty' (1994) in Bill Beckley and David Shapiro (eds), 'Uncontrollable Beauty: Toward a New Aesthetics' , Allworth Press and School of Visual Arts 1998 p58.

'Objects of beauty do not really fuse with principles of goodness and truth – although for a few dazzled moments we may feel they do&We long to inhabit a world of that kind even though we know all too well that we do not. The power of beauty may derive from the fact that it ministers to this longing. The beautiful object creates in the mind of those who attend to it the spiritual home that reality does not provide.'
John Armstrong, 2004
John Armstrong, The Secret Power of Beauty, Allen Lane, Penguin Books 2004 p33.