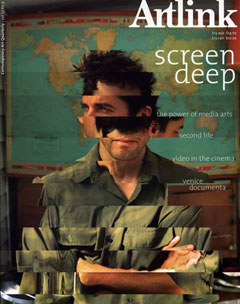 Screen Deep
vol 27 no 3, 2007
SCREEN DEEP edited by Julianne Pierce looks at the global phenomenon that is moving image in the artworld. In the last five years video art, formerly a marginal form, has become mainstream. Having moving image in an exhibition is now de rigueur, but critique of much of the vast output of video artists is still tentative. A great team of writers wade into this debate with gusto providing a panoramic view of the state of play from magisterial works to Second Life and MySpace. The blurring of distance between film and other forms of moving image is explored.
You are here
»
Artlink
»
vol 27 no 3, 2007
»
The Space of Presence: Leigh Hobba
The Space of Presence: Leigh Hobba
Melinda Rackham, feature
This article examines Australian video and performance artist Leigh Hobba's recent retrospective 'The Space of Presence' at the Tasmanian Museum and Art Gallery. The exhibition presented a precise slice of Hobba's electronic oeuvre including twelve works which highlight the materiality and texture of video as a medium. Together they convey a sense of awe, a pre-verbal ambiguity, recontextualising Hobba's recurrent and connected themes. This article also raises issues of space, infrastructure and technical facilities when considering the ways in which new media art is to be viewed.
---
Subscribe to the Artlink newsletter now