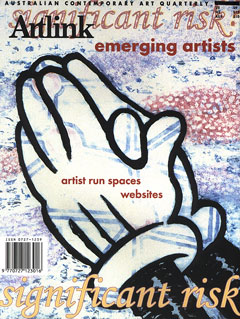 Emerging Artists
Vol 17 no 4, 1997
Guest editor Stephanie Radok. A diverse, challenging collection of articles which examines the issues confronting the newest category of funding - the emerging artist. Are the needs of emerging artists so different from those of other artists?
You are here
»
Artlink
»
Vol 17 no 4, 1997
»
Between Heaven and Earth
Between Heaven and Earth
Author & Artist: Mr Brook Andrew, feature
Looks at the work of Samantha Lau, Megan Jones and Josie Bri-Haines. These works take us away from the populated cityscapes to other lands, other planets and in some senses to a state of rest. Their premise is our worship of the sun, planets and stars.
The full text for this article is yet to be uploaded.
---
Subscribe to the Artlink newsletter now