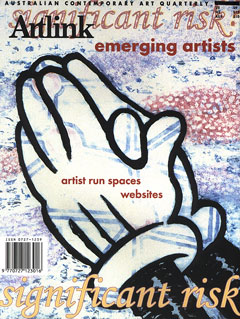 Emerging Artists
Vol 17 no 4, 1997
Guest editor Stephanie Radok. A diverse, challenging collection of articles which examines the issues confronting the newest category of funding - the emerging artist. Are the needs of emerging artists so different from those of other artists?
You are here
»
Artlink
»
Vol 17 no 4, 1997
»
1st floor
1st floor
Author: Ms Tessa Dwyer, feature
Opening in April 1994, Ist floor is an artists and writers run gallery space in Fitzroy Victoria. Lists the constituency, administration, funding, programming, documentation, influences and objectives.
The full text for this article is yet to be uploaded.
---
Subscribe to the Artlink newsletter now