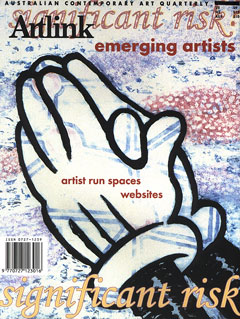 Emerging Artists
Vol 17 no 4, 1997
Guest editor Stephanie Radok. A diverse, challenging collection of articles which examines the issues confronting the newest category of funding - the emerging artist. Are the needs of emerging artists so different from those of other artists?
You are here
»
Artlink
»
Vol 17 no 4, 1997
»
Threadbare With Flare in the 90s
Threadbare With Flare in the 90s
Linda Carroli, feature
In July 1997, the Queensland Government launched its youth arts policy 'Your Culture-- Your Move' which targets the development of cultural activities and artistic practice for young people and emerging artists.
The full text for this article is yet to be uploaded.
---
Subscribe to the Artlink newsletter now