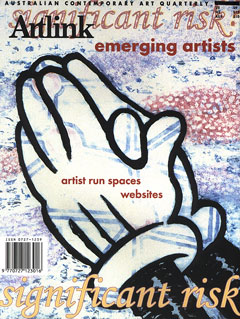 Emerging Artists
Vol 17 no 4, 1997
Guest editor Stephanie Radok. A diverse, challenging collection of articles which examines the issues confronting the newest category of funding - the emerging artist. Are the needs of emerging artists so different from those of other artists?
You are here
»
Artlink
»
Vol 17 no 4, 1997
»
Over, Under, Sideways, Down
Over, Under, Sideways, Down
Author: Mr Brett Jones, feature
Brett Jones, artist and administrator of artist run space West Space, which is located at 42 Albert St Footscray in Melbourne examines some preconceptions about emerging artists. Includes the works of June Furness and Steven Cox.
The full text for this article is yet to be uploaded.
---
Subscribe to the Artlink newsletter now