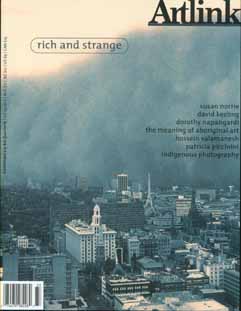 Rich & Strange
Vol 23 no 3, 2003
An overview of key issues in Australia, cutting edge art practice and their echoes in the global arena. Juliana Engberg curates FACE UP a big show for the Hamburger Bahnhof Museum in Berlin and Isabel Carlos directs the 2004 Sydney Biennale. Comparisons between South African and Australian art are explored in Intersections from the BHP Billiton Collection in Melbourne. Major features on painters David Keeling. Dorothy Napangardi, and Colin McCahon, sculptors Hossein Valamanesh, Julie Rrap, Ron Mueck and Patricia Piccinini, and multi media with Jeffrey Shaw. Plus Indigenous photography and new thoughts on the meaning of Aboriginal art from Stephanie Radok.
You are here
»
Artlink
»
Vol 23 no 3, 2003
»
The Entire Life Behind Things: David Keeling's Little Epiphanies
The Entire Life Behind Things: David Keeling's Little Epiphanies
Peter Timms, feature
Timms paints a vivid picture of one of David Keeling's paintings, simultaneously posing questions surrounding how we as audiences deconstruct, interpret and therefore place values on certain images. His argument clearly lies in the appreciating of a process, a journey over the final image, especially when the image is as seemingly banal as that which typifies Keeling's practice.
Keeling's previous works tended to acknowledge the traps of both the dewy-eyed romantic and the coldly rationalist approach. With his recent shift from a surreal satirical atmosphere to the common everyday, though the subject matter may be different, the locating of meaning is still the same.
---
Subscribe to the Artlink newsletter now