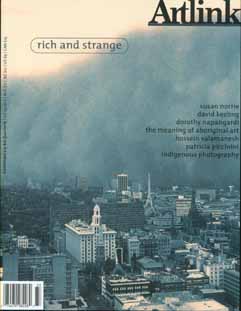 Rich & Strange
Vol 23 no 3, 2003
An overview of key issues in Australia, cutting edge art practice and their echoes in the global arena. Juliana Engberg curates FACE UP a big show for the Hamburger Bahnhof Museum in Berlin and Isabel Carlos directs the 2004 Sydney Biennale. Comparisons between South African and Australian art are explored in Intersections from the BHP Billiton Collection in Melbourne. Major features on painters David Keeling. Dorothy Napangardi, and Colin McCahon, sculptors Hossein Valamanesh, Julie Rrap, Ron Mueck and Patricia Piccinini, and multi media with Jeffrey Shaw. Plus Indigenous photography and new thoughts on the meaning of Aboriginal art from Stephanie Radok.
You are here
»
Artlink
»
Vol 23 no 3, 2003
»
Stone Into Flesh: Julie Rrap
Stone Into Flesh: Julie Rrap
Dr Adrian Parr, feature
Australian artist Julie Rrap has consistently explored issues of corporeality and history. Her recent Fleshstones series expands upon these interests by directing her attention to public sculpture and, in particular, the relationship between landscape and the body. Using digital photography Rrap questions the hierarchical organisation of space through fusing figure and ground relations together. These images refer largely to the sculptural work of Henry moore and the myth of Galatea, the tradition of figurative sculpture in which stone is transformed into flesh.
---
Subscribe to the Artlink newsletter now