Drill Hall Gallery, Canberra
15 August – 28 September 2014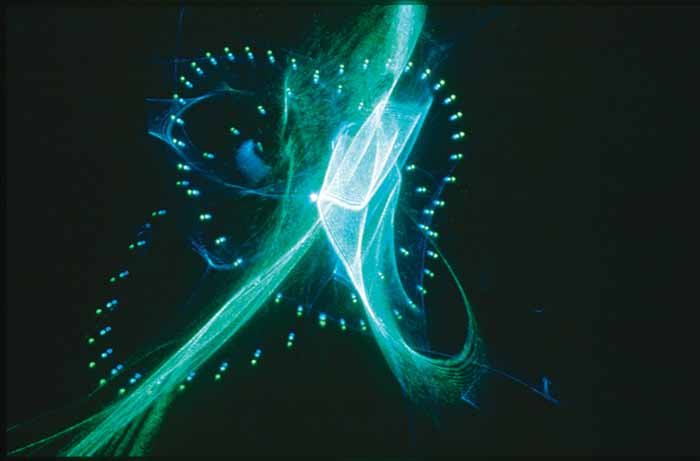 Colour Music is a meticulously researched exhibition uniting a diverse collection of abstract artworks investigating the interconnections between colour and music. This is the first major show curated by Tony Oates, curator of exhibitions at the Drill Hall Gallery, and he is to be commended. It gathers together works from a diverse range of collections including the private estates of Ludwig Hirschfield Mack and Stanislaus Ostoja-Kotkowski.
The exhibition also successfully fostered interconnections between ANU academics and students and the Drill Hall Gallery through the organisation of an active public program. This featured a series of
music performances, a night of projections showing the work of photo and media art students, a symposium investigating the synaesthesic relationship between colour and music, and a program of films including Austrian avant-garde videos at the National Film and Sound Archives. The exhibition catalogue further strengthened the intellectual framework of the exhibition with Oates's essay clearly outlining how symbolism, theosophy, the Bauhaus and other philosophical ideas contributed to the development of abstraction inspired by the relationship between colour and music.
The inclusion of artists such as Roy De Maistre in Colour Music came as no surprise. His literal translation of scales with each note accorded a colour in the spectrum is demonstrated in work such as Arrested phrase from Haydn Trio in orange-red minor (1919/35) and (A set of colour discs, scales, wheels) (1917-19). But there were also hidden gems, notably the works of Bauhaus artist Ludwig Hirschfield Mack who arrived in Australia in 1940. His poem monoprint/watercolour painting Der Mond Senkt (1922) enhances the impact of this symbolist poem through the use of colour combinations that augment each word presented.
The exhibition also highlighted how technological developments advanced artists' investigations of the interconnections between colour and music. During the 1960s Frank Hinder experimented with mechanical devices and light resulting in a series of 'luminal kinetic' rectangular boxes with corrugated glass fronts that refracted the light placed inside them. This is highly effective in his light boxes Silver White (1968) and Colour Ripple (1969).
Hirschfield Mack used film and motion to convey aspects of musical tone and harmony as seen in Farbenlichtspiele (1923). During the 1970s Stanislaus Ostoja-Kotkowski's Laser Chronosonic Tower featured in the Australia 75 Arts and Science Festival and drew upon the latest laser technology to create kinetically produced images. A more contemporary work by Botborg, the audio-visual performance duo Scott Sinclair and Joe Musgrove (who are based in Brisbane in Berlin) used the latest sound and projection technology to create a 'Pseudo Synaesthetic reverie' entitled Lural Numinance Amplifier (2014) an engrossing immersive visceral sound and light work.
Alongside Botborg, the contemporary section of Colour Music included works by John Nixon, John Aslanidis and Cathy Blanchflower. Although these artworks were less 'revelatory' than the uncovered gems found in the historical section, their inclusion clearly conveyed how contemporary art practitioners are indebted to the experiments conducted by their historical predecessors.