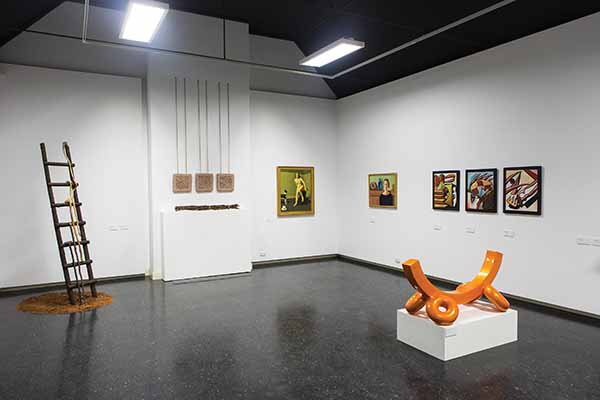 When Rod Taylor and Heather Nicholson stood in the middle of the first floor of a disused warehouse just off Currie Street in the CBD of Adelaide in 1981, they could not have imagined the future of the little Art School as one of the three training institutions for professional visual artists in Adelaide, alongside the South Australian School of Art (University of SA) and Adelaide College of the Arts (TAFE).
The central philosophy even at this early stage was built around atelier training in the deep tradition of European art schools and a profound belief in a curriculum built without concession to fashion, both in art teaching and art practice. Drawing was at the core of the evolving curriculum that encompassed general drawing and life drawing. Rod Taylor was well grounded in drawing and painting following study at St Martins School of Art in London and was also trained in teaching. From this core, Rod and Heather crafted elegantly structured courses in drawing and painting in which real learning came from the teaching of content founded in practice.
It was not long before other artists sought teaching opportunities at the Bloor Court school. Kay Lawrence, Dianne Longley, Hossein Valamanesh, Sally Smart, Bruce Nuske and Bill Young, to name a few, developed courses in drawing, design, tapestry and printmaking. In 1982 others took ad hoc studio spaces in the remaining half of the first floor. Rory Richardson, Christopher Orchard, Stephan Twaine-Wood, Anna Platten, John Hinds, Peter Baka, Christian Kokai-Kun, and Leo Neuhofer became Central Studios Inc. in a symbiotic relationship with the school. It was this nucleus that formed the first of three major exhibitions charting the life of the Adelaide Central School of Art.
In May 2013 a commemorative exhibition, In the Beginning...
30 Years of Adelaide Central School of Art: the first 6 years, Bloor Court 1982-1988, curated by the CEO of ACSA, Ingrid Kellenbach and Gallery Manager Gloria Strzelecki, at the new Glenside site, brought together nine artists, (Rod Taylor, Anna Platten, Peter Baka, John Hinds, Kay Lawrence, Leo Neuhofer, Rory Richardson, Hossein Valamanesh and Christopher Orchard) from this period, presenting works from their time at Bloor Court. What was immediately apparent were the major preoccupations of each artist that would accompany them into mature practice. From the abstracted drawings of Kay Lawrence derived from the Adelaide Hills landscape and John Hinds' exquisitely crafted collages to the growing realism of Anna Platten's insightful examinations of self, the exhibition clearly showed the breadth of searching practice surrounding the budding Art School.
The second exhibition, Chapter Two...30 Years of Adelaide Central School of Art, Gilles St, 1989-1993, opened in April 2014. William (Bill) Anschutz, Johnny Dady, Rita Hall, Dee Jones, Anna Platten, Rory Richardson, Rod Taylor, Lisa Young and Christopher Orchard, all members of Central Studios still co-located with the School, exhibited works from the period.
It was at the Gilles Street site that Adelaide Central Gallery was created. Its first director was Sue Tweddell. Again, the exhibition showcased the growing maturity of each artist's concerns and the truly beneficial effect the sharing of space and ideas had on their work. Incidentally, the parties at Gilles Street were legendary: from Driller Jet and his suspended turntable to formal dinners for 30 people in the abandoned second floor, looking like a scene from a Fellini movie as flamenco dancers clattered a ton of pigeon poo out of the floorboards into the studios below. As Anna Platten wrote,
"The time in Gilles Street seemed to be one of continual, accelerating and exhilarating change. This was happening to us all on an individual level as professional artists – we were then early in our careers – but significantly, in a collective way we formed part of a bigger whole that we loved and were committed to."
A third exhibition, Chapter Three, is planned for 2015 in which artists/lecturers who were at the Osmond Terrace site in Norwood will show works from the period 1994–2012. It will present a wonderful opportunity to see the work of a core group of artists who evolved with the school into a most stable, vital and productive centre of visual art practice and education.
Christopher Orchard, practising artist and founding member of Central Studios, was Head of Drawing at ACSA, member of Academic Board and received the Arts SA Fellowship 2010.