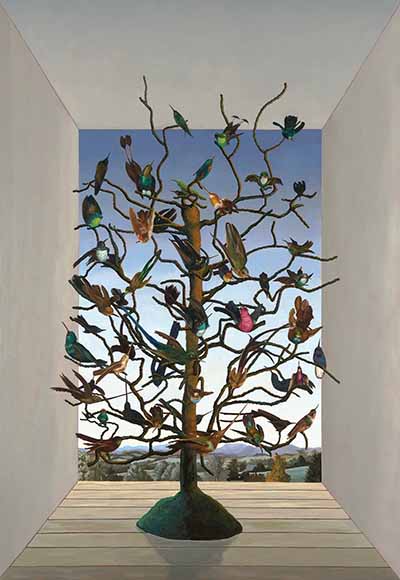 TASMANIA

Queen Victoria Museum and Art Gallery
2 November 2013 - 18 May 2014
David Keeling: a Dreamer's keepsake
Responses to the QVMAG Collection alongside works chosen by the artist.
NEW Gallery
Launceston
23 December 2013 – 14 March 2014
Dreamlands: Katy Woodroffe
Investigation/celebration...decoration/hallucination.
Part of the Academy Gallery X Factor Program.

NEW SOUTH WALES
Art Month Sydney
1 – 23 March 2014
Artistic Director: Scrap Wall
City-wide. Intersections and parallels. Cross-sector collaborations. Visit Private Collections. Food, fashion, architecture, design.
Carriageworks
10 January – 23 March 2014
Chance: Christian Boltanski
Major installation on the rhythm of births and deaths across the globe.
Art Gallery of NSW
6 March – 1 June 2014
Khadim Ali: the haunted lotus
Familial ties and Afghanistan now. New works - carpets, photographs, drawings, videos and miniature paintings.
Penrith Regional Gallery and the Lewers Bequest
1 March – 25 May 2014
Wondermountain
Principal curator: Joanna Bayndrian
Mountainscapes and other worldly 'no-places' of traditional Chinese landscape painting. Twelve Sydney and China based artists.
Sherman Contemporary Art Foundation
21 March – 20 September 2014
Fugitive Structures 2014: AR-MA: Trifolium
SCAF Project 20
In association with BVN Donovan Hill, cutting edge technology structure in Zen Garden.
State Library of NSW
1 March – 11 May 2014
Artist colony: drawing Sydney's nature
One hundred early drawings.

ACT
Canberra Contemporary Art Space
14 February – 22 March 2014
Blaze 8
Curators: Alexander Boynes, Annika Harding
The eighth Blaze ACT Emerging Artist Showcase.
Craft ACT
10 April – 17 May 2014
White Heat: contemporary Australian ceramic jewellery
Curator: Zara Collins
A wave of contemporary ceramic technologies in jewellery.
National Gallery of Australia
6 December 2013 – 21 April 2014
Gold and the Incas: Lost worlds of Peru
Gold, jewels, textiles, ceramics. In the words of Albrecht Dürer said: "I marvelled over the subtle ingenuity of the men in these distant lands."
National Museum of Australia
6 December 2013 – 20 July 2014
Old Masters: Australia's great bark artists
Celebrating 40 master bark painters including Narritjin Maymuru, Yirawala, Mawalan Marika and their contemporaries.

NORTHERN TERRITORY
Araluen Galleries, Alice Springs
15 November 2013 – 22 April 2014
no place like home
Artworks about home in Mparntwe (Alice Springs) and Central Australia.
14 February – 23 March 2014
Rupert Betheras: Field Work
New paintings by former AFL Collingwood football player, sports mentor at Yuendumu with Warlpiri youth.
Museum and Art Gallery of the Northern Territory
9 November – 22 June 2014
Wallace: the rEvolutionary man
To commemorate the 100th anniversary of Alfred Russel Wallace's passing, a showcase of his exploration of the jungles of Southeast Asia and New Guinea.

SOUTH AUSTRALIA
Artists Week
28 February – 2 March 2014
Co-convenors: Lars Bang Larsen and Richard Grayson
Radical Enlightenment in Three Days.
Adelaide Festival Centre Artspace Gallery
15 February – 6 April 2014
Adelaide Park Lands Art Prize
Inaugural event celebrating the open space around the city of Adelaide and North Adelaide.
Greenaway Art Gallery
26 February – 4 April 2014
Imants Tillers
In the landscape with trees.
Tandanya
25 February – 6 April 2014
Four Rooms
Curator: Troy-Anthony Baylis
Seven artists articulating alter/native responses to themes of space, time, and authorship.
Flinders University City Gallery
10 May – 13 July 2013
Mother Nature is a Lesbian
Curator: Celia Dottore
Political printmaking in South Australia, 1970s-1980s.
Fontanelle
2 March – 30 March 2014
Art Scene Satellite Manifestation
Location, geography, debate and exchange. Elvis Richardson, Talitha Kennedy, Oscar Perry, Anna Gore, Ben Leslie, Madison Bycroft.

VICTORIA
Arts Project Australia, Melbourne
22 March – 26 April 2014
Animal Magnetism
Curators: Jessie Imam, Nicole Macdonald
Animals every which way – wild, tame, domesticated, in your lap, on the wall.
Mildura Arts Centre
22 November 2013 – 13 April 2014
Vassilieff: journey to Mildura
Curator: Felicity St John Moore
The Mildura Art Centre's permanent Vassilieff collection and important loans from galleries and collectors.
Heide Musem of Modern Art
15 March – 13 July 2014
Emily Floyd: Far Rainbow
Curator: Sue Cramer
Utopianism, community, activism and the legacies of modernism, with a particular interest in the roles of women and children.
McClelland Sculpture Park and Gallery
16 February – 27 April 2014
Sensory Overload: Karen Casey, George Khut, Ross Manning, Kit Webster
Curator: Charlotte Carter
Hypnotic soundscapes and pulsing lights exploring the invisible data that permeates our environment.
ACCA
14 March – 18 May 2014
New 14
Curator: Kyla McFarlane
Presented by The Balnaves Foundation. Fresh work. Drawing. Painting. Visual musicality. Video. Installation.
QUEENSLAND
UQ Art Museum, Brisbane
18 January – 27 April 2014
Danie Mellor: Exotic Lies, Sacred Ties
Curator: Maudie Palmer
Major survey of the last decade of works on the colonial legacy of Australia, shared and contested histories.
GOMA
22 February – 27 July 2014
Trace: Performance and its documents
Curator: Bree Richards
New commissions and historical works from the Collection.
Museum of Brisbane
15 November – 27 April 2014
Silver
Curator: Jacqueline Armitstead
Queensland photographers and jewellers collaborate to make work about Brisbane traditions.

WA

Fremantle Arts Centre
31 January – 27 March 2014
BALI: return economy
Curators: Ric Spence, Chris Hill
Going beyond the clichés and souvenirs.
Lawrence Wilson Art Gallery
8 February – 19 April 2014
Anne Ferran: Shadow Land
30 year survey exhibition plus new work.

Gallery Central, Perth
10 – 29 March 2014
Beautiful Vermin
The animals that don't belong here, and the paradoxical love that some of us have for them.