Guest editor of Artlink and writer Din Heagney interviews Catherine De Zegher, one of the Directors of the 18th Biennale of Sydney (the first she curated) who is now the Director of the 5th Moscow Biennale 2013. De Zegher acknowledges the balancing act between the conventions of Biennales and attempting to experiment and step beyond them.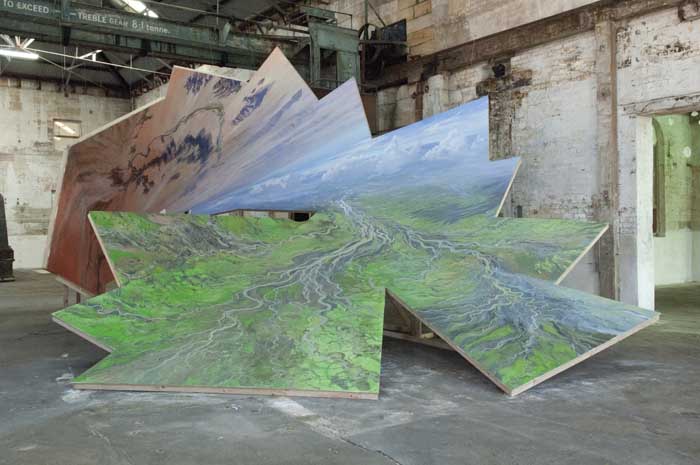 With many recent social and political shifts happening in the world, do you think organisations like biennales can continue to represent national interests or global currency, or are they simply developed through an established model?
Biennales developed from an exhibition model of the last century. They grew out of the Venice Biennale (1895) and later the São Paulo Biennial (1951) and the Biennale of Sydney (1976). They emerged in different continents from the necessity of presenting art that flourished at the so-called centre to be brought to the so-called margins. In São Paolo, the incentive may have grown out of the fact that exiled artists (for example, Marcel Duchamp and others) fleeing war-torn Europe had brought new art with them that was of interest in South America. This model doesn't correspond any longer to our needs and, recently, there have been some attempts to change both the informing principles and the organisational structures.
The 18th Biennale of Sydney set out determinedly to work beyond the existing framework, and it is specifically not about the gathering together of diffuse impressions from around the world, but rather about the tracing of evolving models of thought. Here individual artists are not placed each separately in their own well-defined space within a white box or in peripheral spaces discrete from one another. The criteria for inclusion in the Biennale incorporated the expectation that the artists be interested in conversation and collaboration. The invitation was to engage in the principle of dialogue. Artists were invited to think in terms of time and the performative when structuring their proposals and to imagine their work as experienced by the audience through time: they were asked to think through the event they engender and all our relations at large. So the event generates its own condition for collaboration.
A field is created, a relational field, in which forms of collectivity emerge together with future work. I had an open conception of what could come from the proposal, the parameters being again those of exchange and discourse. It was, in a sense, prescriptive in so far as it posited the potential form or dynamic of dialogue and established enabling possibilities, but it depended on what was going to happen, with the many elements, often unplanned, that shape an event. Crucially, it is necessary to recognise that this way of working is consciously within the personal and the social at the same time and without distinction. This methodology dismantles the notion of the isolated showplace of the artist's discrete project and the thematic gathering together of exemplary displays of objects of art. Here art is a way of activating a relational field—a continuum of creation and co-composition. This concept is materialised in the conversations, convergences, interconnections, and juxtapositions between works, between artists and audiences. All of this adds several layers of complexity -a process which a lot of these biennales and their administrators are not prepared to undertake, because they simply don't want to dedicate the means to this purpose, as they have other priorities, nor do they have sufficient staff, or very importantly, the time. And slow time is one of the hardest things to obtain. There is only a very short time to plan and organise a show of this magnitude. Fortunately, I could work with like-minded artists and thinkers, soul sisters or soul brothers, if you like, who in different parts of the world had already been thinking in the same way. In bringing them together and in sharing our ideas, we shaped together a complex yet open-to-all Biennale within what is already, as many will recognise, a complicated organisation.
Do you think the general biennale model offers scope for experimentation?
In some ways, the biennale model at this scale is inevitably predetermining and certainly quite rigid. There is relatively little room to move, as the model is already largely decided. It's not a conspiracy against the curatorial undertaking, of course, but rather a matter of developed structures, customs, and the imperatives of the timetable and budgets. One can reasonably wonder, when you have to make an exhibition on the scale that biennales have come to be –producing a large-scale event in what's effectively a year – if it is doable as anything more than a variant on the template? And can you actually go outside the model without the complications and sometimes damage that comes with it? One of the reasons why the model can appear to be so rigid is that, if you stay within the rules, there is at least a framework to support you, however flawed. Once outside of this, you suddenly have a lot more work to do, you have to re-establish relationships on new principles, and I can say with feeling that it's difficult. It's a heavy challenge in any biennale. I don't believe anyone can do this kind of large-scale exhibition project in such a short time, without years of experience, connections, and relations. That's not only personal relations, but relations with artists and institutions. It's even just the knowledge of where to go to conceive of what you want. I had never done a biennale before, and I had no idea that it was such a corporate institution. This was not from naivety – the pressures of different agendas or purposes that meet in a Biennale are evident to all.
You do however have some freedom, and the Biennale of Sydney left the curatorial choices very open for us. Yet, there were many subtle changes performed by the management, so that what they see as attracting press and audience numbers will be supported, but what is smaller or more ephemeral will not get as much support. In this way, by incremental steps, some of the core curatorial concepts were effectively eviscerated through shaping where the attention within the project would actually go. In any case, this is the background against which I decided to shift the merely representation model into something more collaborative and relational. I will say that I was grateful that the Biennale board went for this proposal and, fortunately, we had great support for our ideas, even though the board knew it was going to be hugely adventurous. Very early on in the process, I had this new model in mind, and wasn't going to work with the standard biennale model, which is why I ran into a few problems with the biennale management who had their own agenda. I was proposing another working method, a collaborative model of negotiation and horizontality, and one that is very different from the past and its habits. This resulted in what appeared to be a clash between a corporate model and an artistic visionary model, but which actually reflected a more complex set of interests.
So how can a biennale model shift into new ways of working?
In general, biennales have increasingly become platforms for promotion. They are often run by art dealers, collectors, and industrialists, so that the model has become corporate and resembles an art fair, with similar kinds of engagement, and this effect is accentuated by the career administrators who act as functionaries. It's interesting that recently there is sometimes a veneer added that we could call the corporatising of ideas, the cooption of concepts often inimical to the commercial imperative, that are stripped of their intended meanings and presented in an odd hybrid of corporate and academic speak as a claim to currency. There is developing a circuit of academics eager to ally themselves with this tendency and the symposia, keynote addresses, flights and hotels that go with it. The Biennale of Sydney may have wanted to move from this model by taking on two curators who would not focus on such conditions, and it allowed us to develop the project in new ways.
By taking conversation and collaboration as the working method of all our relations, we have, in some respects, heavily shifted the biennale model. Consequently, the topic itself questioned the model, and the new model became, in part, the topic. After the experience of the last year and a half, despite the evident difficulties, I believe an art biennale can be a wide platform to bring forward this logic of relation with large audiences. Facing our common reality, the event is an open-ended space for exploration, contemplation, and critical reflection, and it acknowledges the importance of the development of thought finding expression in passionate commitment and illumining creation, and thus contributing to culture. In a way, this biennale may be described as an act of consciousness interrogating consciousness itself. Its mission is different in kind from the proliferation of biennales as thematic compendia. If we have succeeded at all, there will be both a sense of the continuities accruing to the event over time and a sense of timeliness – the sense that artists and audiences are engaged in making the present and history, in ways that great art does.
In what ways did you experiment with the artists in the Biennale of Sydney?
I think we tried hard to set up a space for experimentation by inviting artists who were already collaborating with communities and by bringing artists in conversation with each other and the visitors. Basically, there was an agreement that we needed participation through a kind of thinking together, by being neighbourly, essentially by working together. Sometimes it worked out, sometimes it didn't. There are quite a number of limitations in working within an established framework. For example, it was important that artists would live together in residencies in the venue of Cockatoo Island, but for various reasons it was hard to convince management and to realise it. In the end, a temporary community was created and the result was companionship and the creation of present and future projects together.
I purposely selected artists who had an inclination to collaboration and a sense for collectivity. I not only had to deal with the resistance of the institution involved, but also with the expectations of the artists, who are not used to such invitations, as they bring with them those kinds of prejudices about how you are supposed to work within a large organisation, which in itself is a limitation. Often, artists don't find it easy to work together with each other and audiences, however I suppose this has less to do with an individual failure than with a structural one. Another important aspect was the artists' collaboration with craftspeople in their own countries or within Australia. These kinds of collaborations extend broadly and require a certain way of working together. Most artists will at first try to find their own space and then keep it that way, but a lot of the artists were also very keen to work with others, including audiences, in their projects. The limitations, however, within an established organisation often remain strict, keeping separation in place in its structure, so, in the end, the cases of collaboration existed sometimes only in a notional capacity.
Every case was different in the sense of experimentation, but the corporate side of the institution was not really able to deal with it. In the longer term I don't think that these are insoluble problems. We actually went quite far with our notions of experiment with artists and audiences. For example, Monika Grzymala (Poland/Germany) worked with the Australian Aboriginal group of Euraba Artists and Papermakers from Boggabilla, and also with fellow artist Ed Pien (Taiwan/Canada), who in turn worked with the Inuit throat singer Tanja Tagaq; all together they were determined to add another level of connection. Gao Rong collaborated with a community of women embroiderers from her home village in Inner Mongolia to realise her work. The residencies on the island became another great experiment, as the artists were living together, cooking together, talking and conceiving new projects together. The entailing collaborations may happen in time; they don't have to happen right now but perhaps in three or five years, so that projects that started here in Sydney as sometimes constrained experiments may come into being as something more, years down the track. The other more experimental element you could say is the high level of audience participation in works by Lee Mingwei, Erin Manning, Nadia Myre, and Eva Kotatkova.
Can you tell me more about your curatorial approach for the Biennale?
From the start it was clear that we must have no theme to begin with. Our working method of conversation and collaboration would generate the topics. I've always worked like this – with the occurrence of serendipity. But this does not mean that in abandoning the delimiting support of a theme you step into a void or the accumulation of chance impressions. My experience has always been that, when eagerly and passionately working on something this way, things come towards you because you pay more attention to them. In a sense, what you're trying to grasp or materialise, more than anything else, is a currency of thinking. This does not concern novelty, but how we live in and imagine the present together – a thinking that is born from and engages with our present condition. When you speak with a lot of artists, philosophers, sociologists, anthropologists, and art historians, you can see parallel movements of thought happening in each of these disciplines. That's what fascinates me: how these thoughts and ideas converge and are interconnected and interdependent. Of course, all the work rests on having some confidence in life; that things will come to you and you will be able to shape them together with others. The more open you are to this process, the more art comes between us and through us, and the curatorial concept becomes increasingly shaped. It seems natural to me and often quite intuitive. There is no set idea beforehand, as a theme or predetermining conceptual formula, but an attention and the fluent matrix of relation. And what I love about the visual arts is that you can actually see these connections becoming, not only in shapes, colours, substance, the matter of sensibility, but also in the way they may share a certain content, and when these entwine or coalesce, when they come together, then with the audience new meanings are born. Curating is not like switching on a light when you're invited to conceive something like a biennale. It concerns a continuous process in an area I have been working in for more than 20 years. It's making relations in the sense of connection and telling.
I told the volunteers, guides, and visitors that I would not explain the whole exhibition to them, but that I rather would stimulate their own readings. That is crucial. It's your experience of the work that generates the consequence of the work in society. I like to keep interpretations very open, which is really another kind of experiment in itself. Art is a social thing. It only exists between each other, between the artists and audiences. It's always about the connection between the two.