Curator: Victoria Lynn Flinders University City Gallery Samstag Museum of Art Contemporary Art Centre of South Australia Australian Experimental Art Foundation March 2012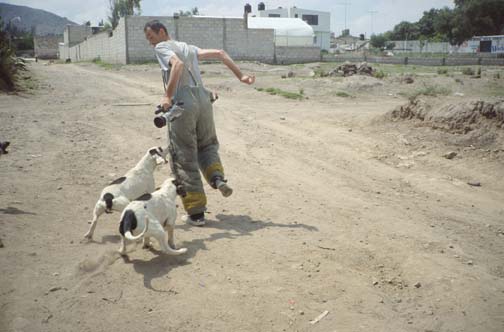 The work of the fourteen artists and one collective of Restless came from all over the world - Greece, Iran, Cyprus, USA, Albania/Germany, New Zealand, Lebanon, Netherlands/UK, Mexico, Sweden, France, South Korea/UK, India, Belgium/Mexico. This list of countries shows sometimes where the artist is based and sometimes where they were born, their nationality and where they now live. It suggests a European heartland.
Restless is the second in a new series of visual art exhibitions at the Adelaide Festival called Adelaide International that is set against the Art Gallery of South Australia's Biennial of Australian Art as a sort of mini-international Biennale. Is this a good move? Experience would seem to say "no not really".
This is because the Biennale model of about one work by one artist, an anthology approach, doesn't really work for many artists. The international side of the Adelaide Festival visual art program needs to be much more flexible. My ideal reworked version of this Adelaide International would be a Francis Alÿs retrospective at the Samstag, a Nancy Sperou retrospective at the Flinders University City Gallery, work by Danae Stratou and Postcommodity at the bunker-like CACSA and multiple booths of an intense series of videos and documentary material backing up Teresa Margoles' work at the AEAF accompanied by the work of Regina José Galindo, a Guatemalan performance artist who uses her body as a medium to address the abuses of power in her native country.
It has to be said that Restless did make you feel restless. On the one hand we are often defined by our nationality (especially in Biennales), on the other hand today nationality is seen to be increasingly flimsy as all over the world people are being forced to become refugees, to flee their nations, and join other ones. For those who are not forced to travel the self-imposed task of keeping up with contemporary art necessitates a great deal of travel – to biennials, documentas and manifestas, though this does clock up many ecologically irresponsible air-miles. not to mention kennel fees (for the dog), so luckily sometimes the work comes to you. In Restless a lot of the works responded to some extent to conflict – the literal conflict of wars, the confusion implicit in mistranslation, the common experience of disconnection. Then again Restless often made you feel irritated and dissatisfied because of the flimsiness of many of the works.
Among the best was The Globalising Wall a video installation by Danae Stratou of dividing walls in seven conflict zones across the world - Cyprus, Israel/Palestine, Eritrea/Ethiopia, Belfast, Kosovo, Kashmir, USA/Mexico. The work was effective in proceeding at such a pace that your thoughts of identifying places or imagining the lives lived there became moved along/forced to experience the staccato jump of being blocked to the sound of gunfire.
But the work that dug a space for itself in both memory and thought was the reading projection With salvage and my knife tongue by Postcommodity at Flinders University City Gallery where indigenous Australian and American voices and faces appeared and disappeared, while carefully but not always legibly repeating and repeating the words that I quickly wrote down on the small sheet of paper I had collected from the Adelaide Central Market showing its Easter trading hours. Its use of repetition and rhythm – "If you ever thought you would hear music at this point." "A drum, a trumpet or something." "I often ask my children to remember." "We are salvaging our tongue." "It never happens in public." The market closes and opens." "A referendum becomes law." It reminds me of what is possible." "The way earth filters light and our being." If you work hard and abandon reason." – took common expectations of native peoples, first peoples, all peoples and turned them back to face their interlocutors. Serious art. For serious people.