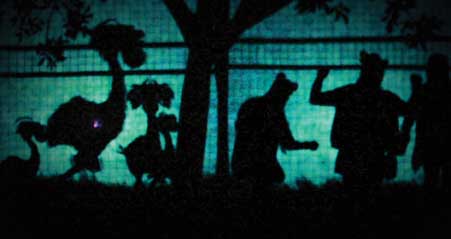 Art at Splendour
Jimmy McGilchrist and Jordana Maisie provided unexpected and tantalising visual hooks to accompany the musical highlights of the Splendour in the Grass music festival at Woodford, Qld in August 2011. Close Encounters, Maisie's large, shiny UFO, best viewed at night when the spacecraft seemed to hover benevolently above the masses, was an instantly recognisable pop culture reference to personal and other-worldly journeys. The predominantly Gen Y crowd enjoyed sending texts to the UFO, and then seeing their message, followed by a response from 'the alien', broadcast on the saucer's LED screen. Curious Creatures offered individuals a more intimate experience with young and old drawn to the antics of McGilchrist's whimsical beasts. Digital projection enabled participants to interact with moving silhouettes of the squawking family of creatures. They, and their human counterparts, became increasingly boisterous over the 3-day musical odyssey. 15 Splendid artists are currently developing concepts for Splendour 2012. Thanks to Lee Kinsella for this report.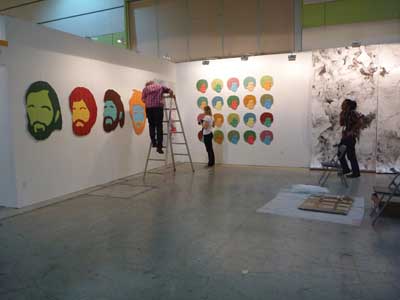 Commissions
Civil Twilight End is a bell in a 7m bell tower by artists Kate Daw and Stewart Russell in Melbourne's Docklands. The melancholy bell tolls every evening at twilight and its special sound aims to bring a sense of belonging to the new residents of this precinct. Commissioned by Satellite Art Projects, the permanent artwork is part of a historic goods shed, and was launched early October as part of the Docklands Integrated Art Program for VicUrban. Bells and their histories are documented in and around the old brick sheds.
Funding
In the new round of Australia Council visual arts multi-year funding some organisations have had their funding reduced and others are on notice for one year. Casualties include Craft Australia and DLux MediaArts which lost their funding completely. New beneficiaries of multi-year funding are 4A Centre for Contemporary Asian Art and Westspace. In performing arts South Australians are angry at the defunding of Australian Dance Theatre, one of the top national contemporary dance companies.
The Eurocrisis hits the arts
The visual arts in Europe, says international editor Alison Carroll, are like the Greek economy - on the top is a thin layer of the super-rich looking the other way, on the bottom a pit of despond, and in the middle people scrambling and hoping to 'hold on'. The top layer is seen in the high class of the Pinault Foundation in Venice – creaking with money – which rubs off on lots around the Serene Republic. The bottom is the temporary closing (and seeming non-opening) of smaller arts institutions both private and public around Britain. And the middle is the sheer lack of exciting contemporary art exhibitions. They are too expensive, too risky, too unprofitable. That the Dutch have cut their (very generous it is true) arts funding by some 70%, makes the UK's 30% cut seem positively generous. But it still means that in the UK the Tate has a continuous run of (dead white male) solo shows by Magritte, Miro, Gauguin and whoever else will get someone to buy a ticket. It certainly means those in a job (managers or teachers) want to keep them, pulling down the shutters, and making it very tough for the next generation of creative whizz kids, and despite the sheer vulgarity of the recent Frieze Art Fair, it's hard times for artists.
Sydney International Art Series
Recorders is a large-scale solo interactive exhibition at the MCA in Sydney by Rafael Lozano-Hemmer, in which artworks hear, see or feel the public, exhibit awareness and record and replay memories obtained during the show through surveillance and biometric technologies. It is meant to oscillate between the seduction of participation, preservation and inclusion, and the violence of ubiquitous computerised detection and compiles a database of behaviours that then becomes the artwork itself. Recorders is part of the new Sydney International Art Series. 16 Dec – 12 February.
Festivals
From 2013 the Adelaide Festival and the Adelaide Film Festival will both become annual events. The dates of the film festival will be changed to October to line up with the Adelaide Festival of Ideas.
Adelaide International and Biennial
March 2012 promises the usual feast of visual arts events at the Adelaide Festival with Victoria Lynn curating a truly international Adelaide International across a range of venues with 15 artists coming from 13 countries including N.S. Harsha, ?Chosil Kil, ?Annika Larsson/?Augustin Maurs, Rabih Mroué, ?Anri Sala, Socratis Socratous, ?Nancy Spero, ?Danae Stratou, Jinoos Taghizadeh. For Parallel Collisions, the Adelaide Biennial of Australian Art, at the Art Gallery of SA, curated by Natasha Bullock and Alexie Glass-Kantor, 21 artists have been commissioned to make new work. Deadly at Tandanya features newly commissioned works by eight Indigenous artists and collectives. Victoria Lynn and Nikos Papastergiadis are curating Artists' Week, titled Into Cosmos with keynote speakers Jan Verwoert from Berlin, Cuauhtemoc Medina from Mexico City, Hou Hanru from San Francisco, and Barbara Creed and Paul Carter from Australia plus many more.
Pattern and Complexity
In a first for Artlink Margot Osborne, our guest editor for the March issue on pattern, complexity and art, has been inspired to curate an exhibition on the same theme with the same artists being part of both platforms. The magazine and exhibition will be launched concurrently as part of the Fringe Festival on February 28th at 5pm at the extremely groovy RiAus in Adelaide. Put it in your calendar! RiAus is the national science communication institute and is a sister institution of the Royal Institute in London. www.riaus.org.au.
• The Perth Festival will have two specially commissioned temporary sculptures and an immersive exhibition from celebrated Korean artist Choi Jeong Hwa; a solo exhibition from Korean kinetic sculptor U-ram Choe, whose work charts a path between art, science and cybernetics; Art of the Lands, a journey into one of Australia's most vibrant creative and cultural landscapes; and spaced: art out of place, the culmination of a two-year collaboration between 24 Australian and international artists, exploring the relationship between globalisation and local identity.

Conferences
National Visual Arts Education Conference 23 - 25 January 2012 keynote speakers include artists and educators: Tim Rollins (New York), Fiona Foley, Hossein Valamanesh, Danie Mellor, Mini Graff, Daniel Von Sturmer and Peter Alwast. Workshops at ANU, print-making workshops at Megalo and glass workshops at the Canberra Glassworks are part of the program. Hosted by the National Gallery of Australia and National Portrait Gallery. Full program and registrations: www.nvaec.net
Asia
• Digital art is a crowd-puller world-wide and a strategic way to reach audiences in Asia. Asialink has joined with Experimenta to produce Selectively Revealed, an exhibition of screen and video art by 12 Australian artists touring four major Asian destinations from October 2011 for nine months including Korea, Indonesia (part of the Jakarta Biennale) in Dec-Jan 2012, Taiwan, finishing in July in Bangkok.
• The Korean International Art Fair in Seoul in September celebrated Australia as the featured country this year. 17 Australian Galleries - Anna Pappas, Barry Keldoulis, Dianne Tanzer, James Makin, MARS, Niagara, Sullivan + Strumpf, Alcaston, Annandale, Arc One, Catherine Asquith, Conny Dietzschold, Jan Murphy, King St, Mossensen and Nellie Castan all took part.
Real Estate
• The Museum of Contemporary Art in Sydney will re-open with its $53m major redevelopment on 31 March 2012, heralding a new era with greatly increased exhibition space, a rooftop sculpture garden, and a creative learning centre. The inaugural show in the new spaces is Marking Time, with 12 artists visualising time and the passing of time.
• Also reopening after its $1.98m redevelopment is Shepparton Art Museum (new name too) with the facilities to enable it to receive loans from museums. Depictions of 19th Century women by Sir John Longstaff, Shepparton's most celebrated artist, make up the inaugural show Portrait of a Lady.
• Daine Singer Gallery opened recently in the basement at 325 Flinders Lane, Melbourne.
• The Museum of Natural Mystery is a new ARI in North Perth http://naturalmystery.org.
• OK Gallery is a new contemporary art space run by three artist/curators, with new work from early career artists in Northbridge,?Perth. www.oktachoron.com.
• Venn Gallery, an art gallery, design shop, artists' studios and bar/cafe, housed in a three level historical building opened recently in the heart of Perth.
• After 10 years of operation GRANTPIRRIE closed its whitecube premises in Redfern, Sydney in October, but will live on in various countries as Grantpirrie|Project, the next one being Sam Smith's Cameraman in Berlin in November 2011.
People
• Julie Lomax, currently Director of Visual Arts for the Arts Council of England has been appointed the new Director of the Visual Arts Board of the Australia Council, replacing Kon Gouriotis who will take up the Director's position at the Australian Centre for Photography.
• Fiona Hall won the Artist Award in the 2011 Melbourne Art Foundation Awards for the Visual Arts in September. Eva Beson AO and Mark Beson AO won the Visionary Award.
• Hetti Perkins has resigned from her position Curator of Indigenous Art at the Art Gallery of NSW.
• Judy Watson had her first solo show in the USA at the Australian Embassy in Washington in October-November. Titled Waterline, it includes perspectives on floods and cyclones in Australia.
• Katrina Sedgwick is leaving her position as Artistic Director/CEO of the Adelaide Film Festival.
• Dominique and Danielle Angeloro (Soda_Jerk) have scooped the professional development pool in October winning not one but two awards: with the $60,000 Helen Lempriere Travelling Scholarship for one or two years they will travel to the US and UK for residencies. They also were amongst a handful of creatives to win a UK award in the British Council's 'Realise Your Dream' program.
• Monte Masi and James Newitt are the winners of the Anne & Gordon Samstag International Visual Arts Scholarships for 2012.
• War Ears by Pat Hoffie and Stephan Purcell, referencing WWII listening contraptions, won the Dux Lighting? Environmental Awareness Award at the annual SWELL Sculpture event at Currumbin Queensland this year.