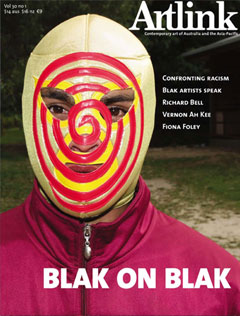 Blak on blak
Vol 30 no 1, 2010
Political, satirical, hard-hitting art by blak artists around Australia is assessed and discussed by blak writers. Brought to prominence by the collective ProppaNOW in Brisbane, these works challenge ignorance and racism through deadly blak humour, irony and parody. Queensland, known in the 1980s as the Moonlight State, was the hotbed that bred the confrontational art of these artists. In a dynamic Australian publishing first both the Editor Daniel Browning, and assistant editor Tess Allas, are Indigenous, and all of the features are written by Indigenous writers. Some like Djon Mundine, Margo Neale and Brenda L Croft are well known as curators and essayists, others are newer on the publishing scene. All engage vigorously with their subjects - the artists Vernon Ah Kee, Richard Bell, Fiona Foley, Gordon Hookey, Tony Albert and Jennifer Herd. Donna Leslie provides a poignant look back at pioneer of political Aboriginal art, the late Lin Onus. The politics of skin, Aboriginality, colonial history and gender are a part of the mix with the works of Dianne Jones, Bindi Cole, Yhonnie Scarce and Gary Lee.


This issue has been generously assisted by QIAMEA, the Queensland Indigenous Art Marketing & Export Agency. The editors were assisted by the Cultural Fund of Copyright Agency Ltd.
You are here
»
Artlink
»
Vol 30 no 1, 2010
»
History is a weapon: Fiona Foley history teacher
History is a weapon: Fiona Foley history teacher
Tess Allas, Feature
Badtjala woman Fiona Foley is a sculptor, installation artist, painter, printmaker, photographer, public artist, curator, lecturer and public speaker.
Her work addresses lacunae and silences in Australian history, opening wounds and drawing attention to important topics of the past and how it affects the present.
---
Subscribe to the Artlink newsletter now