Outsider Art is enjoying increasing attention in Australia. STOARC – the Self-Taught and Outsider Art Research Collection – at the University of Sydney opened its public face at Callan Park Gallery in March 2009.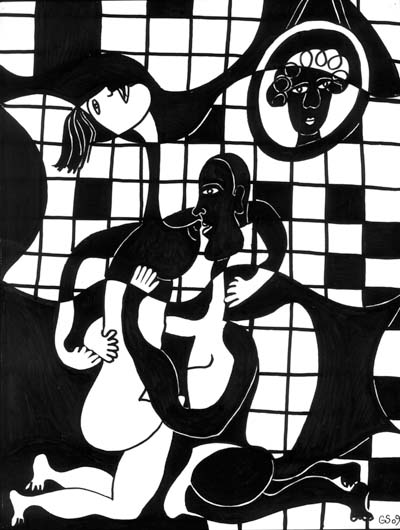 Outsider Art is enjoying increasing attention in Australia. Recent exhibitions like 'Without Borders' and 'Australian Outsiders' were enthusiastically received, and a show at the Orange Regional Gallery in late 2008 'American' and 'European Outsiders' spanned the range of Outsider Art's reach. From classics like the spiritualist Madge Gill and self-taught genius Scottie Wilson through more recent additions to the field like Rosemarie Koczÿ, Malcolm McKesson and Roy Wenzel, it was a taste of the global phenomenon that is Outsider Art building on two decades of visionary programming of Australian outsiders by the gallery's director, Alan Sisley along with other pioneers, Terence Ralphs, Rosemary Jeffers, John Blades, Philip Hammial and Peter Fay. It was also the signal shot for the foundation a few months later of STOARC - Self-Taught and Outsider Art Research Collection – at the University of Sydney.
Conceived as an international centre for academic study, dissemination of knowledge and promotion to the wider community in Australia and internationally, STOARC has in the first few months of its existence, brought four exhibitions of internationally prominent outsiders to its public face, the Callan Park Gallery, located in Sydney College of the Arts at the University's Rozelle campus. One of Britain's best known outsiders, Albert Louden had his first Australian outing at the Callan Park Gallery in May. And two of the stars of the Herenplaats Atelier in Rotterdam, Hans Hartman and Paulus de Groot followed a month later in a show that also saw the debut of Sydney artist, Lynda Strong.
Self-Taught and Outsider Art (the terms are often interchangeable) is produced by people in some way excluded from the mainstream art world. The field is made up of a mixture of socially and culturally marginal figures who embrace or inhabit unconventional or eccentric worldviews. They sometimes embody cultural positions that seem 'other' to prevailing social norms, and often (though by no means always) live with diagnosed mental health conditions – it's true, for example, of Koczÿ, but not Louden. Callan Park's history since 1878 as the site for a major psychiatric hospital (originally named the Callan Park Hospital for the Insane), and the subsequent use of the original nineteenth-century buildings by one of the nation's leading art schools since 1998, lends a poignancy to the location and name of the new Callan Park Gallery which is devoted to showing art that occupies that space between the artistic mainstream and those groups cast beyond the pale.
Over the last 100 years it has been largely mainstream artists like Paul Klee, Arnulf Rainer and Jim Nutt and, to a lesser extent, psychiatrists like Walter Morgenthaler and Elke Spoerri who promoted the concept of Outsider Art. The most influential of these is probably Jean Dubuffet who coined the term 'Art Brut' in the 1940s to describe the work he collected, by a mixture of long-term psychiatric patients, mediums and self-taught social isolates. By the time of his death in 1985 others, such as artists with intellectual disabilities, had been added to his anti-cultural canon. The Outsider Art label itself can be dated to the publication of British academic Roger Cardinal's 1972 book 'Art Brut.'
The STOARC collection began with the acquisition of the highly significant work of Portuguese outsider, José Dos Santos (1904-96), thanks to the philanthropy of Sydney curator and collector Peter Fay. Australia is now home to almost all of the surviving sculpture of this remarkable artist who spent his entire life in the small village of Arega. He could neither read nor write and was completely self-taught as an artist. Yet, in the last years of his life he produced amazing, powerful sculptures some of which formed the inaugural exhibition at the Callan Park Gallery in March 2009. One room was devoted to a group of large musicians and three hand-made instruments that demonstrate the bricoleur's art at its best. In the other room were major figure sculptures, including an enigmatic Janus-faced hermaphrodite.
Work will continue to be added to the research collection which is accessible to Australian as well as overseas scholars. Dos Santos has been quickly followed by the donation of Pearls of Arts Project Australia, consisting of some 180 works by artists working in Arts Project Australia in Melbourne and representing a decade of passionate collecting by Stuart Purves and an invaluable snapshot of the organisation and its artists in this period.
The Callan Park Gallery has a full program of exhibitions, including parts of the Peter Fay and Ray Hughes collections, French artist Gérard Sendrey and New Zealander Susan King. STOARC-related projects will include a survey of art made in ten studios at Arts Project Australia by artists with intellectual disabilities from three continents and an exhibition of the multilayered, jewel-like work of American self-taught artist, Ann Marie Grgich. 2009 will end with the triumphant return to Callan Park of celebrated Sydney outsider, Anthony Mannix, a former patient at the hospital.