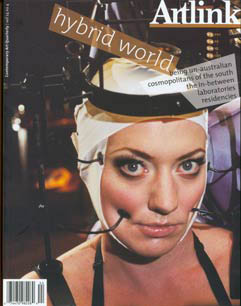 Hybrid World
Vol 24 no 4, 2004
The constant interchange of artists and ideas globally, encouraged by the world network of artist residencies has resulted in new genres of hybrid practice. Multiculturalism is reassessed, together with indigeneity, Pasifika, Asian threads and the South as a cultural force.
You are here
»
Artlink
»
Vol 24 no 4, 2004
»
Virtuous Networks
Virtuous Networks
Melinda Rackham, feature
While many art institutions are just coming to terms with incorporating networked media into their exhibition programs, the genres have been exponentially expanding and mutating. In recognition of the newly hatched species that is networked media art, the ISEA2004 (the nomadic biennial festival held in Finland, Estonia and onboard a Baltic cruise ship) and the Australian ARS ELECTRONICA, dedicated a stream of their conference and exhibition programs to networked themes.
---
Subscribe to the Artlink newsletter now