Seva Frangos
UWA Publishing, 250 pp.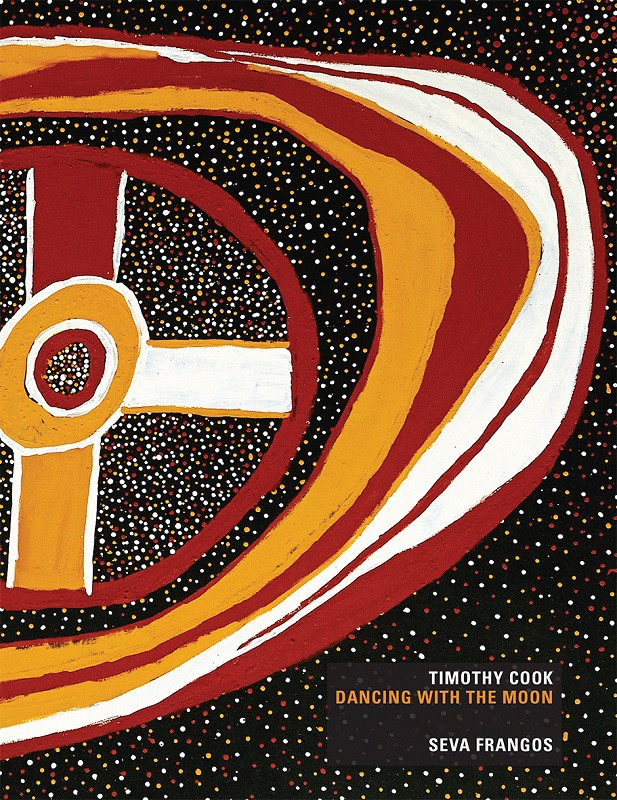 Timothy Cook: Dancing with the Moon is the second monograph dedicated to a Tiwi artist. The first was Kitty Kantilla's NGV retrospective catalogue in 2007. The book's poetic title references the circular motif recurrent in Cook's paintings and the associated kulama (yam) ceremony, traditionally performed when rings become visible around the dry-season moon. More obliquely, the title suggests Cook's unique intellectual character as an artist dancing to his own drum - with the enduring Tiwi rhythm section right behind him.
Cook's work has all the raw immediacy of the art brut style, coupled with the subtle pictorial reinventions of the dedicated formalist. While such terms from Western art history are largely disqualified in current discourses of Indigenous art, their equivalents are readily found in the well-documented history of modern Tiwi art, of which Cook's paintings are distinctive translations.
Spanning twenty years, Cook's critical practice disavows Paul Keating's recent claim that contemporary Aboriginal art is "pinned by its commercialism ... denied the right to breathe and expand and grow in its own terms". The book's lavish reproductions make a strong case for Cook's measured development, despite some weaker inclusions. Author and art dealer Seva Frangos writes ardently in support of Cook, tempered by Judith Ryan's thorough analysis of his oeuvre and Glenn Iseger-Pilkington and Bruce McLean's more personal reflections.
When Cook started painting in 1996 he had access to the Tiwi cultural archives of performance, body-painting and carving and close support from his peers at Jilamara. The reproductions of Tiwi bark paintings commissioned by anthropologist Charles Mountford in the 1950s were another stimulus, the images providing a template for many of Cook's early works. This is just one example of the cross-cultural threads running through the book's narrative, notably in Quentin Sprague's essay, although I remain sceptical of the recurrent idea that Cook's iconographic cross-forms are an expression of his Christianity.
Una Rey was manager Jilamara Arts and Craft, Melville Island, from 2000–02.