University of Queensland Art Museum
18 January – 27 April 2014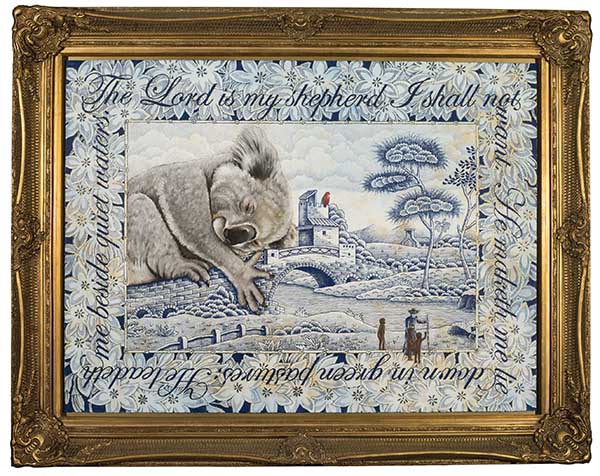 Reflecting on twelve years of his creative process, Exotic Lies Sacred Ties is Danie Mellor's first survey. UQAM Director Dr Campbell Gray claims that it "is a landmark exhibition, considering his contribution to contemporary Australian art in depth."
Mellor has Scottish ancestry as well as Aboriginal heritage from the Mamu, Ngagen and Jirrbal peoples from far north Queensland. Mellor has assembled conventional European influences together with Australian Indigenous images to tell stories of forgotten histories. Mellor's art uses the juxtaposition of surreal relationships of scale (huge koalas rest beside tiny figures) vanishing point perspective and an overall flatness to transport and embed the viewer into imagined landscapes.
His exploration of memory and identity employs a range of media that include painting, printmaking, drawings and sculptural forms composed of taxidermies of native flora and fauna, some of which are encased in plaster and broken ceramic plates. Mellor says that the broken ceramics represent "shattered narratives" that show "history unfolding".
Mellor's use of symbolic and symbiotic Western and Australian Indigenous icons references the reverberation of colonisation in contemporary society. This approach reinforces opinions such as those expressed in Archibald Meston's 1894 book, Social Darwinism and the Construction of Institutionalised Racism in Australia in which "Meston simply denied that the Aborigines were a doomed race". Mellor's contemporary reiteration of what was a radical position in the late nineteenth century presents strong evidence of how we have survived. Meston called on Queensland "to care for, and preserve, its native race for the colony's honor and for our common humanity." Mellor's drawings both reflect and respond to a doomed race theory that endures to the present.
In his drawings, Mellor utilises Swarovski crystal together with pencil, pastel and glitter on Saunders Waterford paper. He has adopted a signature style of blue and white inspired by Spode designed ceramic ware. "Blue was a word undefined in the Aboriginal language," writes Samantha Littley, the co-ordinating curator of the survey exhibition, "and so it was a sign of European culture". In the catalogue to the exhibition Mellor adds to this, stating that the designs acted as "a global language when people had it either on their teacups or on their dinnerware. Pictures were revealed as the dinner was eaten, and people were literally "'consuming culture' as a way of seeing the dinnerware design, and experiencing something from afar ... For me it was very much about the idea transformation of landscape. It's like the European gazing, hitting, transforming, and ultimately changing the place".
This blue and white patterning runs like a theme throughout the entire exhibition, uniting the works in a way that serves either to invite the viewer into the work or that pushes them away.
Mellor's intriguing and enticing aesthetic is no less political or polemical when compared to the work of other metropolitan based Indigenous artists many of whom are based in Brisbane; rather, Mellor sets up a different challenge to the contemporary Indigenous Art canon with his unique aesthetic. Although spearhead members of the proppaNow group are known for their head-on attack of the disparities that lie at the heart of Western understanding of what is emerging as the Indigenous contemporary canon and for their parodic commentary on social, cultural and historical injustices, Mellor's work offers the mainstream audience a way into these issues through more contemplative portals. But he too offers a way into a labyrinth where the challenges to the viewer's interpretation are equally acute.
Mellor's work An Elysian city (of picturesque landscapes and memory) replaces the traditionally depicted figures of Adam and Eve figures with an Aboriginal man and woman who look back at a landscape full of native and exotic plants and trees. This work in particular resonated with my own personal memory of this important Western story of origin that has been overlaid by the interpretation of Bundjalung Aboriginal Elder and Medicine woman, Aunty Lorraine "Mafi" Williams who once told me "If Adam and Eve were Aboriginal, there wouldn't have been so much trouble. Instead of eating the apple, 'Black Adam' would have eaten the snake".
As a conveyor of First Nation's Australian Aboriginal peoples' ideas, Mellor's messages are tinged with disproportionate political suggestions that are reflected in the disproportionate scaling of the flora and fauna that are often used as his principal protagonists. Mellor has created a broad vocabulary for audiences to engage with current dialogues that reconsider aspects of Australia's history.