Curators: Abdullah M. I. Syed and Wenmin Li Nicole Barakat, Denis Beaubois, Nick Brown, Muamer Cajic, Anie Nheu, Ana Pollack, Nusra Latif Qureshi, Marikit Santiago, Shay Tobin, Teo Treloar Remarking | Remaking Community Project Nicole Barrakat in collaboration with Blacktown Indian Subcontinent Women's Group Blacktown Arts Centre 20 July – 1 September 2012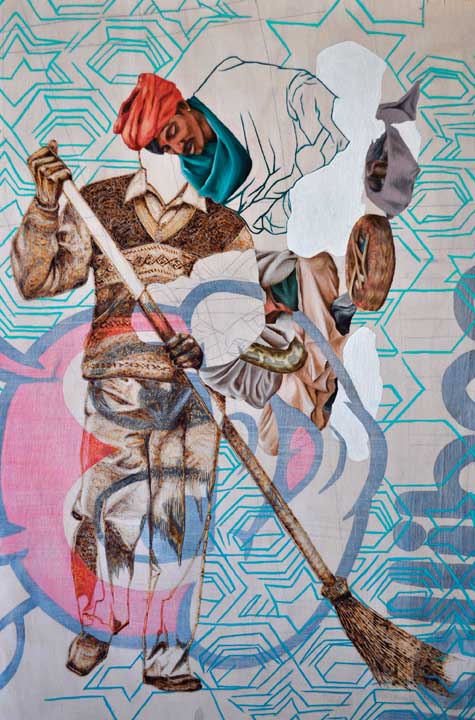 Delicate spirited organisms enchant your senses as they dance poetically across a fragile field of luminous silk, travelling nowhere in particular but fragrant of a sweet belonging to another time and place. Nearby, desolate shadows of a parallel universe invade as kindred marks darkly reflect difference -- fragility, displacement, absence – the whimsical curtain of playfulness lost within a fragmented black veil of obscurity, attempting to disguise darkness with adornment. The works, Travelling in Two Boats, a community project driven by artist Nicole Barakat, were both part of the REMARKING l REMAKING: Contemporary Australian Drawing Connections exhibition held at Blacktown Arts Centre.
The community drawing project, Travelling in Two Boats, incorporating the stories of the families and traditions of twenty-four women from the Blacktown Indian Subcontinent Women's Group, shone alongside an exhibition of the work of a small selection of emerging and established artists. Ten artists in total, all immigrants to Australia, with very different backgrounds and approaches, who either embrace drawing as the primary medium in their practice, or employ drawing as a finished, autonomous and self-generative discipline, were chosen in a curatorial attempt to encompass all the current views of Australian drawing.
An intimate interpretation of diasporic culture in Australia was revealed through combining the cultural and the aesthetic as forms of expression thus including marks infused with distinctive cultural tales, legends and myths, and making connections between the act of contemporary drawing and the personal. In Remarking/Remaking, the intimacy provided by the drawn medium was a perfect platform for artists to either respond to their own cultural diaspora or to their experiences of Australian society. Many find an exhibition showcasing the practice of drawing to be a landmark in current contemporary practice and yes, an exhibition celebrating the process of drawing is significant but the process of drawing has never lost significance and has been actively practiced and shown in Australia over the past ten years. As identified by co-curator, Li Wenmin, with recent major Australian drawing events including the Drawing Connection Conferences (COFA UNSW, biennial since 2001), Sydney Drawing Festival (2005) and I Walk the Line: New Australian Drawing (MCA, 2009) and many international exhibitions and publications of drawing playing a significant role in the contemporary art scene.
This is not simply a drawing show of craftsmanship where pencils and watercolours speak pretty pictures the talk runs far deeper, through a river of animated lines, where the sky and water come together in a dynamic dance of expanded visual language, an essence of the original mark. Reassembling of cut-up drawings, fragmentation, accidental shapes making connections, negative space evolves into a positive, a place of freedom. Delicate layer upon layer, a graphite build-up becomes the myth of man, ordinary and peculiar, only making sense through the shape of an animal.
Other works dealt conceptually with the artists' broader existential anxieties through the creation of small abstract marks, petite gentle impressions a rebellion against the overpowering nature of our current visual culture, living within it, and attempting to belong to the contemporary society that embraces it. The work's meaning is not obvious but is left for the viewer to find.
Blacktown Arts Centre, located in the geographical centre of Sydney, 30 kilometres west of Sydney's CBD, is committed to cultivating and showcasing diverse contemporary culture through the transformative work of local communities and contemporary artists, embracing diversity and addressing current community cultural issues. Remarking/Remaking explored cultural diasporas through addressing issues of displacement, absence and identity delicately with sophistication and pulchritude, developing a dynamic language enabling the public to experience the diversity of Australian visual culture, drawn from specific cultural and aesthetic viewpoints while maintaining local relevance. Co-curators Abdullah Syed and Li Wenmin, with the support of Vaughan Wozniak-O'Connor, in their unusual and inclusive exhibition at Blacktown, enhanced the local community's cultural experience and strengthened its foundations, thus promoting unity in diversity.
Grace Hughes