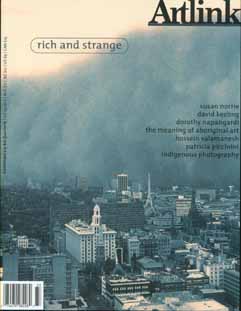 Rich & Strange
Vol 23 no 3, 2003
An overview of key issues in Australia, cutting edge art practice and their echoes in the global arena. Juliana Engberg curates FACE UP a big show for the Hamburger Bahnhof Museum in Berlin and Isabel Carlos directs the 2004 Sydney Biennale. Comparisons between South African and Australian art are explored in Intersections from the BHP Billiton Collection in Melbourne. Major features on painters David Keeling. Dorothy Napangardi, and Colin McCahon, sculptors Hossein Valamanesh, Julie Rrap, Ron Mueck and Patricia Piccinini, and multi media with Jeffrey Shaw. Plus Indigenous photography and new thoughts on the meaning of Aboriginal art from Stephanie Radok.
You are here
»
Artlink
»
Vol 23 no 3, 2003
»
Impressive Risk-Taking: The Ideal City at the Valencia Biennial 2003
Impressive Risk-Taking: The Ideal City at the Valencia Biennial 2003
Author & Artist: Mr Paul Greenaway, feature
While the Venice Biennale remains the pre-eminent visual arts event on the international calendar there are now over 40 similar events that claim to be truly international. One of the newest is held in Spain and its second addition in 2003 gave us a tightly curated, human-scale celebration of ideas with some outstanding exhibitions. Developed expediently over the last five years, taking the community with them, the government is changing face and mindset of what was only ten years ago a city in the grip of chronic decay. Paul Greenaway reports.
While the Venice Biennale remains the pre-eminent visual arts event on the international calendar, there are now over 40 similar events that claim to be truly international. One of the newest is held in Spain and opens just days before Venice. For the cognoscenti it is good to be able to tick off several events in one trip; you can 'do' Valencia, Venice and Basel as a group. This year the trifecta provided a good cross-section of approaches to contemporary practice and to curating. For the stamp collectors who want big names and small domestic works Basel was a treasure trove; when more is never enough and quality is not so important, Venice fitted the bill. Although there was some good work there this year, Venice did reflect the uncertainty that the world has experienced in the last two years and mirrored this back to us. The Second Biennial of Valencia gives us a tightly curated, human-scale celebration of ideas, with some outstanding exhibitions and a policy that was not only sympathetic to the artists but financially and morally supportive. New works commissioned by a Biennial, later owned by the artists!

The State Government of South Australia recently held a one-day Arts Summit, in which it asked the 300 delegates representing all the art forms where they saw the city of Adelaide and the state in the year 2013. We were asked for Visions and Strategies, bearing in mind the government priorities for the future direction of the arts and cultural sector: Economic Development, the Renewal of Adelaide and Social Inclusion.
Adelaide is a city of just over a million people, the State of SA less than two million. Valencia also is a city of just over a million people in a Province of less than two. The Valencia Biennial cost close to AUD$6m this year, 65% privately funded with the provincial government guaranteeing the other 35%. Although this biennial has a theatre component and three small projects 'The world saved by Children', 'Ephemeral Architectures' and 'Socioples - Habitat for Solidarity', the Visual Arts projects constituted 80% of the total budget.

'The Valencia Biennial, whose second edition has as its theme The Ideal City, is more than simply an exhibition of plastic arts. It is a social event of the greatest importance. Through an extensive programme of attractive projects, the Generalitat Valenciana's [Valencian Regional Government's] firm policy of converting Valencia into a city of international importance in the realms of contemporary art is renewed and consolidated.'
Jose Luis Olivas - President of the Generalitat Valenciana.

The Secretary for Cultural promotion Consuelo Ciscar Casaban added 'Valencia can through the arts represent the original model for the city of our dreams, a city that is livable, harmonious, welcoming and conciliatory...[demonstrating] in these times through which humanity is passing, that art, culture and community spirit and economy are not hermetic capsules protected by their own sterility'

Now that's Vision and Strategy! Developed expediently over the last five years, taking the community with them, government is changing face and mindset of what was only ten years ago a city in the grip of chronic decay. I am not suggesting Adelaide (Brisbane or Perth) need to copy another European model, hey, we have enough imagination to come up with our own strategies, I hope.

Director Luigi Settembrini in his curatorial notes acknowledges the precise strategy of cultural investment undertaken by the city of Valencia. Teasing and provoking its audience to think about their 'home' and what they want he says:

'Where is society heading at the beginning of this third millennium? What's the brave new world really going to be like? Whether expectant or terrified, these are the questions we are asking ourselves.

'What does city mean anymore? What does home mean? What are the things that make up a city? What are the thoughts, doubts, fears, certainties, reflections that come to meet us face-to-face as we head towards these material and immaterial territories where we live?

The Valencia Biennial through a group of works and projects conceived especially for Valencia will help us to question the power and potential of the city, of The Ideal City, understood as a prismatic place capable of symbolically ordering and accommodating difference and differences without smothering them.'

So the question must be asked: just how successful was this experiment? There was certainly a buzz in the city and around every corner there could be found another piece of art, some installation, a converted house made into a museum or a convent made into a futuristic department store. The concept and ideas were great, the public was fully engaged, but sometimes the art was no more than a decorative panel hung on the outside of a building, like well known British artists Gilbert and George whose large photographic piece Gum City was hung so high so that it became more a pimple on a pumpkin than the monumentality that was suggested in the catalogue.
There were thirteen major exhibitions in this Biennial with a surprisingly small number of Spanish artists represented. While there were a couple of Japanese, Korean and Chinese artists, the vast majority of artists came from Europe and to a lesser extent America. There were no Australian artists.

Three of the most interesting exhibitions in this Biennial are profiled below.

Solares - On Optimism
Curator: Lóránd Hegyi
The solares are abandoned urban spaces which create sun pockets (hence the name). They are often old bomb sites from the Spanish Civil War, irregular empty plots delineated by surrounding walls still containing remains of stairs, tiled kitchen walls or bricked-up windows; the aesthetic of the sites suggests the continuous transformation of culture and the anarchical creativity of urban transformation, showing the scars of forms, uses of buildings, spaces and organizations, communities and other vital processes. In this way they invite us to enter a private, personal and hidden sphere where intimacies may be revealed, turning every observer into a voyeur.

Some 32 artists from all over the world came several times to Valencia (some made five visits) and were invited to carry out site-specific installations engaging the idea of human utopias.

Standout works included Matthew McCaslin's Seed, perhaps the least interventionist piece. With a gestural use of draped cables, fluorescent tubes, an old electric clock and a kitchen sink he addresses the inherent beauty of entropy and structures in decline. Then there was the bold concrete poetry in neon of Maurizio Nannucci, the slightly frightening formal beauty in Bertrand Lavier's Be Lighter and Eugenio Cano's Vigilancia Iluminada or the intense experience of watching a large scale video work by Marina Abramovic. We smile with Polly Apfelbaum's work For Alice; Gloria Friedmann's La vie en rosa and the absurdity of Oleg Kulik's superlarge light box of a bulldog.
By making these fragile and negative spaces positive Solares becomes a true metaphor of the Ideal City.


micro-UTOPIAS
Curators: Francisco Jarauta and Jean Louis Maubant
Approaching and before even entering the Maritime Museum the immediate impression was the boldness of this project. The street had been partly closed and a flotilla of wooden boats spilled out and down the street to greet you. The artist Tadashi Kawamata had collected old, discarded boats over a six month period from nearby docks, private wharves and scrap-heaps. Inside the museum the show was no less impressive from the historically important model of 'Spatiovore'1959 by Constant Nieuwenhuys to the massive Areana 1999 by Rita McBride. Stellar names Frank Gehry, Mike Kelley (sp?) or Vito Acconci also showed impressive works.

Micro-UTOPIAS seemed to be primarily exploring the partly new, partly subtle, intermediary territory halfway between Utopia (of global systems) and Reality (of narratives, soliloquies and narcissistic pleasures). The exponents included radical architects of the sixties as well as contemporary artists prepared to abandon practices focused on the rhetoric of art in order to communicate their concerns about life, the public environment and social phenomena. In this way they have recovered the capacity to establish a dialogue with their public. This is a must-see show which I would love to see come to Australia.

A & M: department of proper behaviour
Curators: Will Alsop & Bruce McLean
In a large internal courtyard of a mid-city convent the artists created five long rooms, open and airy for the most part, to house A & M: department of proper behaviour - a 'shop of experience' where items can be purchased, but which more importantly becomes a part of the day, a place to spend time, where you can sit down and talk; a place that celebrates the artisan as well as the artist, a place of proper service.
It is a place where everything is unique and most importantly a place where ideas, objects and behaviours can be tested, and if necessary can fail with dignity. As the curators said, 'Our shop is nothing to do with the phrases Shop till you Drop or Born to Shop, it is not concerned with mediocrity or price, it is a place to furnish dreams.'

---
Subscribe to the Artlink newsletter now