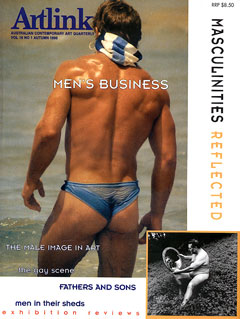 Men's Business: Masculinities Reflected
Vol 16 no 1, 1996
Guest edited by Noel Sanders and Kurt Brereton, this issue examines the male image in art, the gay scene, fathers and sons, men in their sheds and many other topics germane to gender, sexuality and identity. Exhibition and book reviews included as well.
You are here
»
Artlink
»
Vol 16 no 1, 1996
»
Men Without Toilets
Men Without Toilets
Author & Artist: Mr Neil Roberts, feature
Let's speak about nomads and farmers... The acrid vapours that fill the cast iron nooks and crannies by day: the trickles on metal that appear in my black and white slides each night like blood from a more visible crime: this evidence of the distillation of men: these signs are signs enough of the collapsing consequences of 'farming'.
---
Subscribe to the Artlink newsletter now