Edited by Tjala Arts
Wakefield Press, 2015, 288 pp.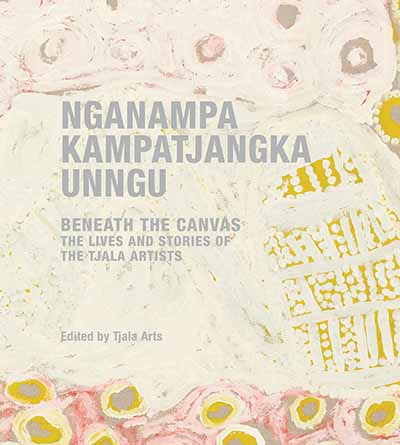 Nganampa Kampatjangka unngu / Beneath The Canvas: The Lives and Stories of the Tjala Artists was edited by an Aboriginal art centre, Tjala Arts at Amata in Central Australia, thus demonstrating a collective unity of purpose as well as a non-individualistic approach to culture.
The book has a mission as a history book, an art book, and an art history book. Its purpose is stated in the slogan of Tjala Arts - "Our Art, Our Business". These words are painted, as described by Hetti Perkins in her brief contribution, on the repurposed bonnet of a car outside Tjala Arts.
The areas covered by the book are the homelands of the Anangu Pitjantjatjara Yankuntjatjara (APY) people. Traditional owners won freehold title to the APY Lands in 1981 through the Pitjantjatjara Land Rights Act although they are not always living on their own traditional lands. Information about the land rights campaign, about the art centre which was started by the women in 1997, about wood carving and grass weaving as well as accounts of major exhibitions held by Tjala Arts in Darwin, Adelaide, and Brisbane flank the major part of the book of individual interviews with 57 artists, great photographic portraits of them and many images of their paintings and other artworks.
Tjala Arts has an agenda of cultural strength and ownership, and wishes to make it clear that the power in the art is not for sale and not for interpretation without their permission. It belongs to them and they plan to keep its potential and purpose of generating jobs, income and cultural strength in their own hands. This book is a firm and very colourful manifesto.
Stephanie Radok is an artist and writer based in Adelaide.