Current Issue - vol 33 no 1, 2013
Editor Alison Carroll AM
A fascinating overview of the development of contemporary art in Japan, China, SE Asia, India, Korea, indonesia and Pakistan in all its diversity. Themes such as the visual arts and Islam, traditional and craft/art culture, cultures and Asian abstraction are also explored in detail. Until recently Director of Asialink Arts, Carroll is in a unique position to access the knowledge of her colleagues in all the key arts positions in Asia and the ...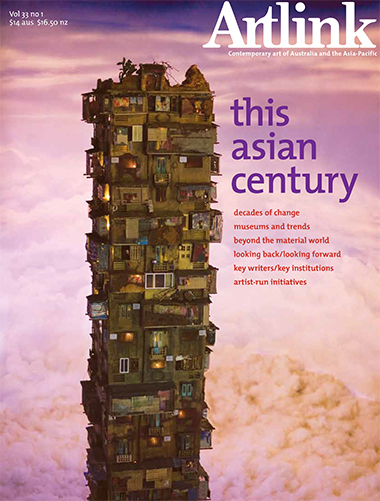 This Asian Century Launch
Lisa Slade (Project Curator) and Nick Mitzevich (Director), Art Gallery of South Australia with Alison Carroll, Guest editor, This Asian Century
Senator the Hon. Penny Wong and Nicolas Jose
Digital editions


Now available in the App Store for your iPad, iPhone and iPod Touch and on Google Play for Android phones and tablets.
Full digital editions are also available on your PC at http://www.ilovemagazines.com.au/artlink-magazine-306578.html
Artlink Indigenous Beauty & Terror

Chinese edition now available. Buy...
Asian Special Offer
Three back issues to give you valuable and rare in depth resources on the emergence of contemporary art in Asia starting with a fascinating survey of SE Asia in the early nineties, followed by a view right across the Asian Region in 2000, and in 2003 a dedicated issue on China recording the dramatic entry of its artists on the world scene. 3 Asian Back Issues for one special price - Order now!
Indigenous Special Offer
Four acclaimed value-packed special issues from 1990, 2000, 2010 and 2011, on Aboriginal and Torres Strait contemporary art. A ready-made up to date history of this vibrant cultural arena. Includes the mega issue, Artlink Indigenous - Beauty & Terror.
4 Indigenous Back Issues for one special price - Order now!
The Awful Truth About What Art Is
A groundbreaking book that proposes a radically new answer to the questions What is art? and How do we know whether something is a work of art?
Artrave - Comment, upcoming events, people, news and views
Artrave - The content or the container The artworld and increasingly the ordinary visitor have learned to expect extravagant architectural statements in new or redeveloped art museums or at the very least marble floors and awe-inspiring heights, which may explain the sense of let-down expressed by so many at the reopening of the Museum of Contem...
Read it now
---
Future Issues
Artlink Indigenous #3:
Co-guest editors Stephanie Radok and Daniel Browning (June 2013)
Essential reading. The third in this ground-breaking annual mega-issue series about developments in Aboriginal and Torres Strait contemporary arts.
Artlink Indigenous #3 focuses on the criticism of Aboriginal art, its history, its controversies, its place in Australian art. The issue also includes profiles of new and old artists, and articles on blak humour, the black screen, More...