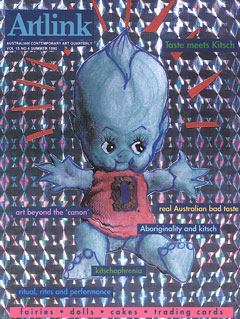 Taste Meets Kitsch
Vol 15 no 4, 1995
Guest editor Juliette Peers. A bold and challenging issue that examines taste and kitsch, art beyond the 'canon', real Australian bad taste, Aboriginality and kitsch, kitschophrenia, ritual, rites and performance, fairies, dolls and trading cards. Only for the really bold!
You are here
»
Artlink
»
Vol 15 no 4, 1995
»
Bruising as R & D
Bruising as R & D
Author: Ms Pat Hoffie, feature
Livid Festival was launched in Brisbane in 1988 with the broad altruistic aim of 'giving a go' to local Brisbane bands, performers and visual artists. Within three years the festival had grown exponentially and included a wide range of feature guest artists.
The full text for this article is yet to be uploaded.
---
Subscribe to the Artlink newsletter now