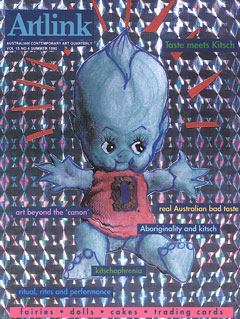 Taste Meets Kitsch
Vol 15 no 4, 1995
Guest editor Juliette Peers. A bold and challenging issue that examines taste and kitsch, art beyond the 'canon', real Australian bad taste, Aboriginality and kitsch, kitschophrenia, ritual, rites and performance, fairies, dolls and trading cards. Only for the really bold!
You are here
»
Artlink
»
Vol 15 no 4, 1995
»
Teaching Aids
Teaching Aids
Author & Artist: Mr Gregory Kwok-Keung Leong, review
Exhibition review Active Agents: Aids Art in Australia
Anthony Babicci, Bronwyn Bancroft, Simon Carver, Eddie Hackenberg, Ian Hartley, Leonore Lancaster, David McDiarmid, Ross Moore, Marcus O'Donnell, Scott Redford, Celia Roach, Gary Shinfield, Jackie Stockdale, Andrew Thomas-Clark, Hiram To, Julia Topliss, John Turner, David Urquart
Curators Jill Bennett and John Turner
University Gallery, University of Tasmania, Launceston
11 May - 9 June 1995
The full text for this article is yet to be uploaded.
---
Subscribe to the Artlink newsletter now