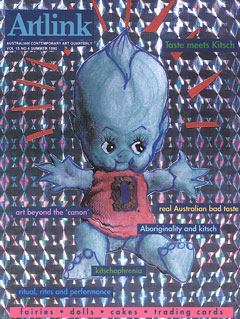 Taste Meets Kitsch
Vol 15 no 4, 1995
Guest editor Juliette Peers. A bold and challenging issue that examines taste and kitsch, art beyond the 'canon', real Australian bad taste, Aboriginality and kitsch, kitschophrenia, ritual, rites and performance, fairies, dolls and trading cards. Only for the really bold!
You are here
»
Artlink
»
Vol 15 no 4, 1995
»
Image Bank
Image Bank
Author: Dr Juliette Peers, feature
Collection of images with artists statements. Artists featured: Katanya Shanzy, Anne Graham, Geoffrey Seelander, Simon Duncan, Pierre Cavalan, Stefan Szonyi, Cliff Burt, Andrea McNamara, Karen Ferguson, Constanze Zikos, Jandee Amar Leddar, Leon Pericles, Meryn Jones, Annie Taylor, Ex de Medici and Ian Mowbray.
The full text for this article is yet to be uploaded.
---
Subscribe to the Artlink newsletter now