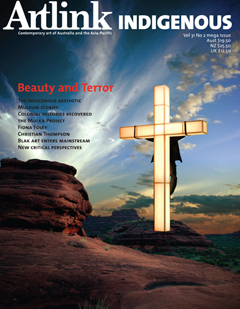 Artlink Indigenous #1
Beauty and Terror
vol 31 no 2, 2011
Guest co-editors Daniel Browning and Stephanie Radok.
A bumper annual survey of current developments and issues in this rich and diverse field. Artlink Indigenous: Beauty and Terror 2011 follows in the footsteps of the groundbreaking blak on blak issue of 2010 with abundant images, profiles of contemporary Indigenous artists, analysis of exhibitions of Aboriginal art in Australia and overseas, and polemics on the politics of Aboriginal art. Writers include Larissa Behrendt, Greg Lehman, Brenda Croft, Ian McLean, Tom Mosby, Margo Neale, Una Rey, Georges Petitjean, Simon Wright and Christian Thompson.
You are here
»
Artlink
»
vol 31 no 2, 2011
»
Romantic Landscapes
Romantic Landscapes
Laura Fisher, Feature
Laura Fisher worked for three years on indigenous artists' biographies for the DAAO (Dictionary of Australian Artists Online) and is now completing a doctoral thesis on the indigenous art market at the University of NSW. Here she brings her wide knowledge to bear on representational and romantic landcape paintings by indigenous artists.
---
Subscribe to the Artlink newsletter now