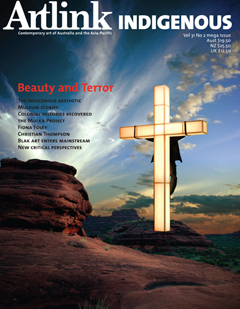 Artlink Indigenous #1
Beauty and Terror
vol 31 no 2, 2011
Guest co-editors Daniel Browning and Stephanie Radok.
A bumper annual survey of current developments and issues in this rich and diverse field. Artlink Indigenous: Beauty and Terror 2011 follows in the footsteps of the groundbreaking blak on blak issue of 2010 with abundant images, profiles of contemporary Indigenous artists, analysis of exhibitions of Aboriginal art in Australia and overseas, and polemics on the politics of Aboriginal art. Writers include Larissa Behrendt, Greg Lehman, Brenda Croft, Ian McLean, Tom Mosby, Margo Neale, Una Rey, Georges Petitjean, Simon Wright and Christian Thompson.
You are here
»
Artlink
»
vol 31 no 2, 2011
»
Aboriginal art at the Vatican
Aboriginal art at the Vatican
Author: Ms Margo Neale, Feature
The National Museum of Australia's Margo Neale writes in depth about the curation of a 100 year old collection of Aboriginal art at the Vatican in Rome. She asks: "How do Aboriginal and Torres Strait Islander people, previously captive to the anthropological gaze and to unequal power relations, not only interrogate the histories that defined them as 'other' and 'lesser', but also regain their voice and agency over historic cultural objects that reside in collections around the world?"
---
Subscribe to the Artlink newsletter now