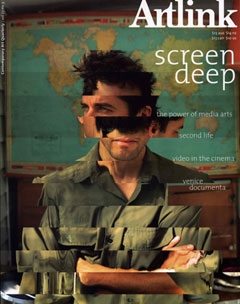 Screen Deep
vol 27 no 3, 2007
SCREEN DEEP edited by Julianne Pierce looks at the global phenomenon that is moving image in the artworld. In the last five years video art, formerly a marginal form, has become mainstream. Having moving image in an exhibition is now de rigueur, but critique of much of the vast output of video artists is still tentative. A great team of writers wade into this debate with gusto providing a panoramic view of the state of play from magisterial works to Second Life and MySpace. The blurring of distance between film and other forms of moving image is explored.
You are here
»
Artlink
»
vol 27 no 3, 2007
»
BEAP 07: A Meditation
BEAP 07: A Meditation
Jonathan Marshall, feature
This examination of the 2007 Biennale of Electronic Art Perth (BEAP), lead Marshall to an ultimate abandonment of its underlying theme of 'stillness', instead choosing to look at the profusion of Australian and international art on offer. This article details key works by artists Christa Sommerer, Laurent Mignonneau, Bill Viola, Seiko Mikami and Sota Ichikawa, Orlan, George Khut, Hannah Matthews, Boris Ledagsen and Natascha Stellmach and Ulf Langheinrich.
---
Subscribe to the Artlink newsletter now