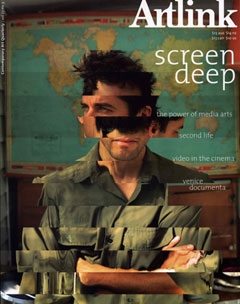 Screen Deep
vol 27 no 3, 2007
SCREEN DEEP edited by Julianne Pierce looks at the global phenomenon that is moving image in the artworld. In the last five years video art, formerly a marginal form, has become mainstream. Having moving image in an exhibition is now de rigueur, but critique of much of the vast output of video artists is still tentative. A great team of writers wade into this debate with gusto providing a panoramic view of the state of play from magisterial works to Second Life and MySpace. The blurring of distance between film and other forms of moving image is explored.
You are here
»
Artlink
»
vol 27 no 3, 2007
»
Look Into My Eyes: Behind the Screens with ACMI
Look Into My Eyes: Behind the Screens with ACMI
Richard Sowada, feature
This article looks at the current state of screen culture in Australia, focusing on the program architecture of ACMI (Australian Centre for the Moving Image) in particular. For screen culture in Australia, the market-driven economy has provided a great number of challenges in the kind of content it can exhibit and the ways in which it can be exhibited in a sustainable and meaningful way. For ACMI one of the key points is in providing the discussion platform by which screen artists or even mathematicians, writers and psychologists can participate – it is through this approach, applying the filmic principles and content concepts to broader social issues and discussions that the greatest power amongst audiences arrises.
---
Subscribe to the Artlink newsletter now