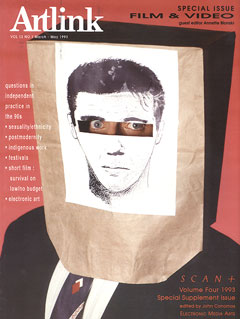 Film & Video
Vol 13 no 1, 1993
Special issue on film and video. Guest editor Annette Blonski. Examines independent practice in the 1990s - sexuality and ethnicity, postmodernity, indigenous work, festivals, short films, survival on a low or no budget and electronic art. Includes SCAN+ Volume 4 1993 Special Supplement edited by John Conomos on Electronic Media Arts.
You are here
»
Artlink
»
Vol 13 no 1, 1993
»
Domestic Noir Night Out
Domestic Noir Night Out
Author: Mr Peter Kemp, feature
Surely one of the powers of cinema is the aesthetic redemption of everyday reality, a poetics in motion that can distill and energise mundane objects, be they tiles on a kitchen wall, the fluorescent facade of an airport terminal, a luminously white T-shirt being twisted and tugged or the compact shapeliness of Y-fronts on a young body emerging from bed.
The full text for this article is yet to be uploaded.
---
Subscribe to the Artlink newsletter now