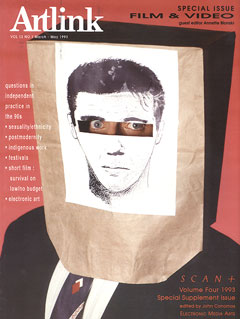 Film & Video
Vol 13 no 1, 1993
Special issue on film and video. Guest editor Annette Blonski. Examines independent practice in the 1990s - sexuality and ethnicity, postmodernity, indigenous work, festivals, short films, survival on a low or no budget and electronic art. Includes SCAN+ Volume 4 1993 Special Supplement edited by John Conomos on Electronic Media Arts.
You are here
»
Artlink
»
Vol 13 no 1, 1993
»
Perplexities: Experimenta 1992
Perplexities: Experimenta 1992
Author: Mr John Cumming, feature
Over 12 days in November 1992, the Melbourne based Modern Image Makers Association (MIMA) held the third Experimenta presenting nearly 200 works of film, video, installation and performance. It included work from Germany, Japan, England and the USA, thus providing an opportunity to assess the current state of 'avant garde' practice and discourse.
The full text for this article is yet to be uploaded.
---
Subscribe to the Artlink newsletter now