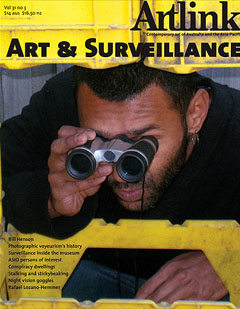 Art & Surveillance
vol 31 no 3, 2011
Guest co-editors Virginia Fraser and Natalie King.
This issue of Artlink approaches the prying curiosity of surveillance, scopophilia, and compulsive and clandestine looking. Texts by artists, curators, writers and academics alongside images by artists who use photography, video, film, electronic networking, installation, performance and painting reveal some of the social implications of watching and the way that watching is framed. From surreptitious encounters to self-exploitation, they uncover the uneasy questions about who is looking at whom for power or pleasure. What is clear is that people love to watch! Including Judy Annear, Geoffrey Batchen, Djon Mundine and Adrian Martin.
You are here
»
Artlink
»
vol 31 no 3, 2011
»
How to catch a Rooman: Fleur Elise Noble
How to catch a Rooman: Fleur Elise Noble
Peter Drew, Feature
Adelaide-based artist and writer Peter Drew interviewed South Australian Fleur Elise Noble whose acclaimed drawing-animation performance 'The 2-Dimensional Life of Her' has taken her around the world. He found Noble about to leave the city for the outback with a new character 'Rooman' who first came to her in a dream.
---
Subscribe to the Artlink newsletter now
Articles in this issue
---
Exhibitions to watch
Artrave: Artrave
Exhibitions: Forthcoming exhibitions on surveillance
Feature: Contemporary Chinese Art
Feature: Don't go kissing at the garden gate
Feature: Inside the museum: surveilled
Feature: It's rude to stare: Bill Henson revisited
Feature: Neighbourhood watching
Feature: Night vision goggles
Feature: People love to watch: From Mr Rumbold to Julian Assange
Feature: Surreptitious Pictures
Feature: Surveillance was not the artwork
Feature: The way you look at me
Feature: Three secrets
Review: Bad Angle
Review: Big Rock Candy Mountain: Amy Joy Watson
Review: Enrique Martínez Celaya: The Cliff
Review: Evolving Identities - Contemporary Indigenous Art
Review: Imaging Interiors
Review: Inconstruction: Colin Story
Review: Out of Site: Tracey Cockburn, Brady Denehey, Elizabeth Lada Gray, Sarah Maher & Nigel Farley, Shaun McGowan, Alyssa Simone
Review: Photosynthetic: Carolyn Lewens, Same River: Peter Annand, glacies lux: Peter Charuk, Breath: Vivian McLatchie, Submerge: Carolyn Lewens, Asmund Heimark and Tim Catlin and Voicing Concerns
Review: Singapore Biennale 2011: Open House
Review: Synthetics (and analytics)
Review: The Nature of Things
Review: Urban Realities: Landscape Urbanism 3 Day Design Challenge
Review: Vernacular Cultures and Contemporary Art from Australia, India and the Philippines
Review: Zones of Exception: Art and Asylum Seekers