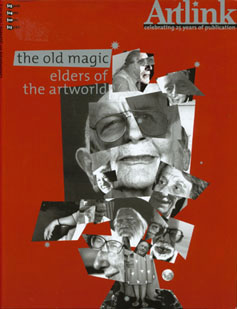 Elders: The Old Magic
Vol 26 no 4, 2006
A group of art practitioners, artists, curators and writers, in their seventh and eighth decades are the subject of our focus. Still actively working, they are charismatic elders whose influence on several generations of young artists has been a crucial part of the development of contemporary practice. The issue of creativity and how it sometimes becomes enhanced in old age, and questions around how we regard our elders, are canvassed. The extreme youth orientation of society today does not always appreciate the value of a fifty year practice.
You are here
»
Artlink
»
Vol 26 no 4, 2006
»
Decorama at Inflight
Decorama at Inflight
Andy Wear, review
Decorama at Inflight
Fiona Lee
Inflight Gallery, Hobart
2 – 30 September 2006


From the gaudy red signage pronouncing 'SALE!' at the entry to Inflight Gallery's modest complex to the flatulent parps of the Rod Stewart track seeping incongruously from the foyer, it was apparent that Fiona Lee's Decorama at Inflight would bypass the de rigueur practices of contemporary installation. Venturing beyond these distractions and into the gallery space itself only proffered more 'SALE!' signs hanging over a phalanx of old season fabric bolts, each propping the next against the whitewashed walls. Though immediately underwhelming, and utterly out of place, this odd arrangement, price-tagged and rolled onto gnarled and misshapen cardboard tubes, belies the strength of Lee's work.

Borrowing the business name, and working with staff from the Decorama retail outlet (located in Moonah, in outer suburban Hobart), Lee recreates the retail experience as installation to transcend the divide between what Deborah Gajda (store owner and author of the Decorama at Inflight catalogue's introductory text) describes as 'the retail trade of Soft Furnishings' and the 'Arts world.' Indeed Decorama at Inflight's greatest achievement is its reconfiguring of so many aspects of the genre. At a conceptual level it disturbs the relationship the observer has with the installation site by turning it into a commercial space from which one may purchase and remove components. This is carried by a gentle aesthetic - from the aforementioned instore easy-listening soundtrack to the colour co-ordinated and price-tagged rolls - that discomforts ever-so-slightly before it engages. Images from the opening illustrate the success of the work; witness chatty gallery-goers clutching their purchases as keenly as their obligatory beverage. Furthermore, Lee extends and expands the experience with a life beyond 'the sale'. By documenting each purchase with a photographic portrait of the buyer beside their purchase, Decorama at Inflight enters a second phase as a projected slideshow on the rear wall of the post-sale gallery. Then, of course, the purchases themselves become reincarnate as idiosyncratic memorials to the buyer's past: the curtains in Nanna's sunroom, the vertical blinds in Dad's office, my favourite pair of pyjamas as a kid, the lobby of that hotel I stayed at in Singapore in 1979, and so on. 'We all have a pattern history,' muses Lee, and this installation provides the opportunity for us to (re)engage with that history.

Of course blurring the lines that divide the artist/observer and creative elite/consumerist mass has been deeply etched in contemporary art theoretical and aesthetic practice; but so rarely does this contribute to work of such unpretentious intelligence and warmth. First impressions may expose Decorama at Inflight as a pleasurably apolitical work, targeting that personal 'pattern history' as a means by which to connect with the viewer. However, as it was (literally) whittled away by the viewers-cum-consumers, I recognised a deep and inherently political essence. This connection exposes Lee's effortless enactment of participatory cultural activity, overcoming the often problematic task of creating what could only be described as a democratic aesthetic. This is no small feat, and that it has been done without condescension or exclusivity, is a credit to Fiona Lee. From here, we can only hope that it contributes to a further transformation of artistic possibility, and look forward to the next installation.

---
Subscribe to the Artlink newsletter now