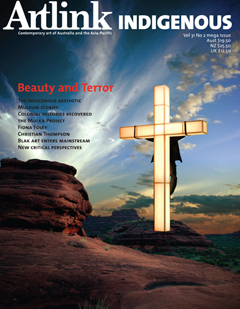 Artlink Indigenous #1
Beauty and Terror
vol 31 no 2, 2011
Guest co-editors Daniel Browning and Stephanie Radok.
A bumper annual survey of current developments and issues in this rich and diverse field. Artlink Indigenous: Beauty and Terror 2011 follows in the footsteps of the groundbreaking blak on blak issue of 2010 with abundant images, profiles of contemporary Indigenous artists, analysis of exhibitions of Aboriginal art in Australia and overseas, and polemics on the politics of Aboriginal art. Writers include Larissa Behrendt, Greg Lehman, Brenda Croft, Ian McLean, Tom Mosby, Margo Neale, Una Rey, Georges Petitjean, Simon Wright and Christian Thompson.
You are here
»
Artlink
»
vol 31 no 2, 2011
»
Donning Oxford
Donning Oxford
Christian Thompson, Feature
Christian Thompson who is one of the two inaugural Charlie Perkins Scholars at Oxford University writes about this experience and how it makes him think of his upbringing and the responsibility it entails. "...it is our arrival at Oxford that reminds me of how much work we still have ahead of us as young Aboriginal people and future leaders of our communities. This is something you feel as an inherent responsibility when you meet people daily from all around the world, whose communities are facing similar hardships and the symptoms of the ravages of colonisation; time is of the essence."
---
Subscribe to the Artlink newsletter now