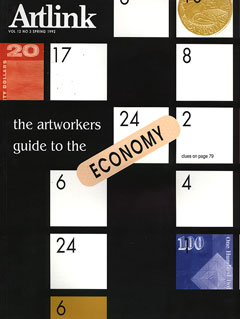 Art and the Economy
Vol 12 no 3, 1992
What does the recession mean for artworkers? Looks at all the hard issues providing for the art worker a guide to the economy. Includes reflections on people and place, artists exchange with the usual abundance of reviews and points of view. Reviews
You are here
»
Artlink
»
Vol 12 no 3, 1992
»
Arts and the Economy?
Arts and the Economy?
Author: Mr Max Bourke, feature
Just recently I was giving a lecture to a large group of arts people when a person in the audience had a go at me for talking about the economy of the arts and not about art. I, too, am very conscious of the intellectual dilemma in this regard.
The full text for this article is yet to be uploaded.
---
Subscribe to the Artlink newsletter now