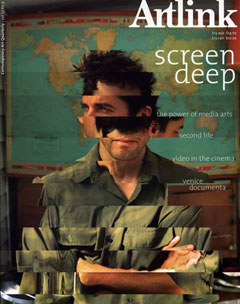 Screen Deep
vol 27 no 3, 2007
SCREEN DEEP edited by Julianne Pierce looks at the global phenomenon that is moving image in the artworld. In the last five years video art, formerly a marginal form, has become mainstream. Having moving image in an exhibition is now de rigueur, but critique of much of the vast output of video artists is still tentative. A great team of writers wade into this debate with gusto providing a panoramic view of the state of play from magisterial works to Second Life and MySpace. The blurring of distance between film and other forms of moving image is explored.
You are here
»
Artlink
»
vol 27 no 3, 2007
»
Thresholds of Tolerance
Thresholds of Tolerance
Author: Ms Anne Kirker, review
Thresholds of Tolerance
ANU School of Art Gallery, Canberra
10 May - 5 June 2007

Does anyone remember the first Asia-Pacific Triennial of Contemporary Art? I suspect that for most of us 1993 is so long ago that this watershed event registers in our memories as a series of fleeting impressions with some artists' work still resonating very strongly. Whatever lingers from Queensland Art Gallery's inaugural blockbuster of art from our immediate region, it would comprise at least two unequivocal sensations. First, that none of us had ever seen work assembled like this before, and second, that probably none of us had been challenged by so much creative expression relating to cultures we were scantily schooled in, together with facts of life and values involving them in the late twentieth century.

The first APT irrevocably shifted the formerly Eurocentric mindset of the curators involved and, I am sure, many of its viewers as well. Therefore, it is not surprising that Caroline Turner who headed the formative APT program (1993, 1996, 1999) should continue over a decade later with projects that stem directly from her experience in mounting three Triennials, now that she is based at the Australian National University. Together with the equally far-sighted David Williams, formerly at the helm of the School of Art, ANU, they are joint-curators of the exhibition Thresholds of Tolerance.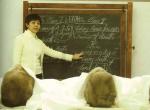 View Larger Image

Araya Rasdjarmrearnsook The Class 2005, video installation, 16.25 minutes, courtesy the artist.
This exhibition does not, as a medium-scale event, stand alone. It was preceded by two related shows: Witnessing to Silence: Art and Human Rights (Canberra) in 2003 and Future tense: Security and Human Rights (Brisbane) in 2005. Workshops with participating artists, academics and interested members of the public accompanied these past exhibitions as well as the current one. All are bonded by the platform of a continuing need to address art and human rights; something especially important in our present world where erosion of the basic premises of human survival is critical.

In the eighty page catalogue documenting Thresholds of Tolerance, Turner writes: 'We chose the theme, in part, to suggest the limitations and challenges to human rights in our time and also to emphasise how much definitions of humanity depend on and are limited by the 'tolerance' of others.' Through the work of seven individual artists and collectives practising in Australia, and/or in adjacent countries, this exhibition provides a timely reminder of pressing issues. Yet the content of the diverse imagery on display is never allowed to supersede aesthetic expression. In all cases, the tenets of reaching an audience through compelling and inventive realisation of an idea and observance of craftsmanship have been observed.

This is equally true of the work of newly formed Brisbane Indigenous artists' group proppaNOW which counts among its eight members Vernon Ah Kee and Richard Bell, the drawings and ceramic heads of world-renowned Indonesian artist Dadang Christanto, of the fearless Queensland artist and academic Pat Hoffie and leading Melbourne painter Jon Cattapan. It is applicable to Julie Gough and her powerful installation referencing her Tasmanian Aboriginal ancestry as it is to senior Thai practitioner Araya Rasdjarmrearnsook and her projected video performance which shows meditative communication with the unknown dead. It is applicable also to the rap music-fuelled camaraderie of Indonesian, East Timorese and Australian artists (under the rubric 'We refuse to Become Victims') who see the only way forward for art as to join hands and create collaboratively in the face of political divisions.

Anne Kirker

---
Subscribe to the Artlink newsletter now