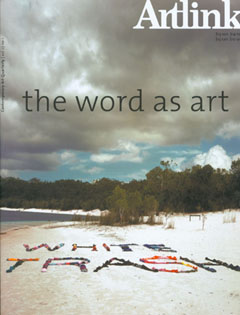 The Word As Art
Vol 27 no 1, 2007
How is it that so many artists continue to choose text as a means of communication over visual imagery? What do words in a visual arts context contribute to the nature of art practice, and where has this tradition come from? The marriage of image and word in the contemporary urban environment is only one aspect of a subject which goes back to ancient history and forward to mobile phones. Guest editor Richard Tipping and a raft of great writers survey the subject - from public art, slogan art, language, calligraphy, installations to artists' books.
You are here
»
Artlink
»
Vol 27 no 1, 2007
»
Words and things
Words and things
Patrick Jones, feature
Concrete Poetry is both a form and an attitude to poetry that emphasises the visual and material elements of letters and thus words in relation to their meaning. 'Words and Things' is a project Patrick Jones set out to produce to represent concrete poetry and text-based art in Australia. A project that took him four years and that has attempted to dissolve the traditional form boundaries between art and poetry. The material considerations of 'Words and Things', both environmental and aesthetic, lead the reader into a work that is more like a sequence of short films than a standard book. Contributors to the book included Richard Tipping, Aleks Danko, Alex Selenitsch, Peter Tyndall, Geoffrey Baxter, Peter O'Mara, Jeff Stewart and Marie Sierra.
---
Subscribe to the Artlink newsletter now