Special offer - perfect gift! 4 Indigenous issues for one price. Buy online now
Four acclaimed value-packed special issues from 1990, 2000, 2010 and 2011, on Aboriginal and Torres Strait contemporary art. A ready-made up to date history of this vibrant cultural arena.
Artlink Indigenous - Beauty & Terror
Guest co-editors Daniel Browning and Stephanie Radok.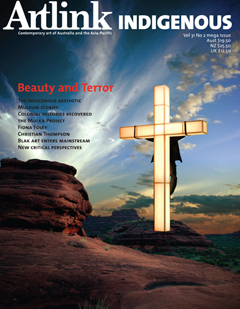 A bumper annual survey of current developments and issues in this rich and diverse field. Artlink Indigenous: Beauty and Terror 2011 follows in the footsteps of the groundbreaking blak on blak issue of 2010 with abundant images, profiles of contemporary Indigenous artists, analysis of exhibitions of Aboriginal art in Australia and overseas, and polemics on the politics of Aboriginal art. Writers include Larissa Behrendt, Greg Lehman, Brenda Croft, Ian McLean, Tom Mosby, Margo Neale, Una Rey, Georges Petitjean, Simon Wright and Christian Thompson.
Contemporary Australian Aboriginal Art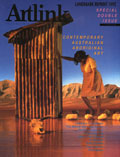 Classic groundbreaking double issue. Reprinted by demand. Looks at traditions in evolution, the role of Art in the survival of the culture, the art market and legal issues, the issues faced by artists working in isolation, indigenous film, video and radio, with a wide range of individual artists profiles and discussions of art practice in remote and urban communities. A unique early documentation of the early days of Aboriginal art in Australia. First published in 1990. Still used as a classic reference for the origins of the Aboriginal contemporary art movement. 120 pages.
Reconciliation: Indigenous art for the 21st Century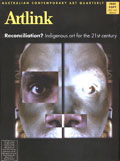 A major survey of Australian Indigenous art, overviews and polemic, tributes to seven major artists including Emily Kame Kngwarray, Rover Thomas, Mick Namarrari Tjapaltjarri and Lin Onus, social issues, 'scandals ', the Stolen Generation, health and art, diverse practices, exhibitions and commissions, new museum displays, industry matters, labels of authenticity, copyright and moral rights, new media art, and valuable maps of areas of activity. Authors include an outstanding group of experts in their field - Marcia Langton, Christine Nicholls, Franchesca Cubillo, Vivien Johnson, Jon Altman, and many more. 128 pages in full colour.
Blak on blak

Political, satirical, hard-hitting art by blak artists around Australia is assessed and discussed by blak writers. Brought to prominence by the collective ProppaNOW in Brisbane, these works challenge ignorance and racism through deadly blak humour, irony and parody. In a dynamic Australian publishing first both the Editor Daniel Browning, and assistant editor Tess Allas, are Indigenous, and all of the features are written by Indigenous writers. Some like Djon Mundine, Margo Neale and Brenda L Croft are well known as curators and essayists, others are newer on the publishing scene. All engage vigorously with their subjects - the artists Vernon Ah Kee, Richard Bell, Fiona Foley, Gordon Hookey, Tony Albert and Jennifer Herd. A poignant look back at pioneer of political Aboriginal art, the late Lin Onus. The politics of skin, Aboriginality, colonial history and gender are a part of the mix in the works of Dianne Jones, Bindi Cole, Yhonnie Scarce and Gary Lee. 124 pages in full colour.
Special offer - perfect gift! 4 Indigenous issues for one price. Buy online now