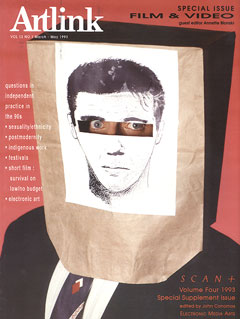 Film & Video
Vol 13 no 1, 1993
Special issue on film and video. Guest editor Annette Blonski. Examines independent practice in the 1990s - sexuality and ethnicity, postmodernity, indigenous work, festivals, short films, survival on a low or no budget and electronic art. Includes SCAN+ Volume 4 1993 Special Supplement edited by John Conomos on Electronic Media Arts.
You are here
»
Artlink
»
Vol 13 no 1, 1993
»
Journey by Proxy
Journey by Proxy
Author & Artist: Ms Dorothy Erickson, review
Exhibition review Crossings Mary Knott: Drawings and Sculptures 1988 - 1992
Curated by Tony Geddes
The Art Gallery of Western Australia
October 3 - December 13 1992
Geraldton Regional Gallery
December 18 -January 21 1993
Bunbury Art Galleries
January 30 - March 7 1993
The full text for this article is yet to be uploaded.
---
Subscribe to the Artlink newsletter now